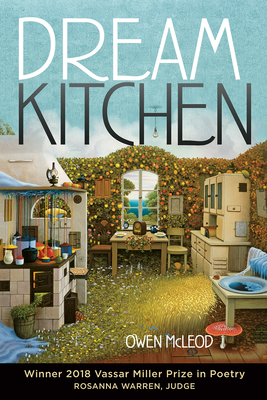 Dream Kitchen (Vassar Miller Prize in Poetry #26)
Paperback

* Individual store prices may vary.
Description
Owen McLeod's extraordinary debut maps the contours of an ordinary life: the rise and fall of romantic love, the struggle against mental illness, and the unending quest for meaning and transcendence. Ranging from sonnets and sestinas to experimental forms, these poems are unified by their musicality, devotion to craft, and openness of heart.

From "All Saints' Eve"

From a La-Z-Boy abandoned
on the basketball court, I watched
you light up the KFC, part traffic
for the rush-hour ambulance, raise
weeds from asphalt cracks, cause rain
to come down like Adidas on me,
mofo of infinite faith. Trees
were your fingers, not prints or clues.
Never were you uppercase with me.
 
Praise For Dream Kitchen (Vassar Miller Prize in Poetry #26)…
"Owen McLeod knows how to pluck what Pound called 'the natural object' from everyday life and endow it with symbolic force. He mingles a sensuous feel for vowels and consonants, with a graceful play of speech rhythms and a gift for revelatory strangeness. I've copied out his lines in my notebook for the sheer pleasure of it."—Rosanna Warren, author of Ghost in a Red Hat and judge

"In Dream Kitchen, Plato, Socrates, and Stevens share space with Nerf balls, Goodwill shirts, and Exxon bathrooms; and of course they do, because there is room enough in this life, and room enough in these poems, for the high and low, the beautiful and terrible, the intimate and strange."—Maggie Smith, author of Good Bones

"Philosophical and funny and open-hearted enough to read the world as a poem, Dream Kitchen is an astonishing book. These are poems for real people that live in real places. They look you in the eye and shake their heads with rueful humor. They hunger for the impossibility of intimacy. They offer risk and wit, and the occasional surreal moments, not for the sake of strangeness, but from a close and tender looking at the world."—Michael Bazzett, author of The Interrogation: Poems

"Owen McLeod's Dream Kitchen is a debut of startling originality, alive with both the relentless sadness and unlikely beauty of strip-mall America. With an astronomer's eye for detail, and a carnival barker's sense for the uncanny and absurd, his darkly funny poems grieve for what we lose, even as they pulse with the fantastic. Formally and tonally dexterous, his poems range from a lovelorn magic realism to philosophical inquiry grounded in the gritty details of contemporary America, with the comic ghost of Stevens presiding."—Mark Wagenaar, author of Voodoo Inverso

"There is certainly skill here and the goal of making the small beautiful and noticed is present consistently throughout the book."--New York Journal of Books

"[T]he poems permeate with maturity, wisdom, and the confident casualness of a writer who has navigated the victories and struggles of everyday life. . . . [T]here is no doubt that the poems will move you in some way and that the manner in which McLeod describes everyday life, in all its glory and failures, is enough to make you reexamine yours, which, if that's all it does, still achieves what great poetry should."--The Adroit Journal
University of North Texas Press, 9781574417494, 98pp.
Publication Date: March 11, 2019
About the Author
OWEN McLEOD is a studio potter and a professor of philosophy at Lafayette College in Easton, Pennsylvania, where he lives. He has held visiting positions at Yale and Mt. Holyoke. His poems have been published in such journals as Field, Massachusetts Review, New England Review, Ploughshares, and The Southern Review.
or
Not Currently Available for Direct Purchase