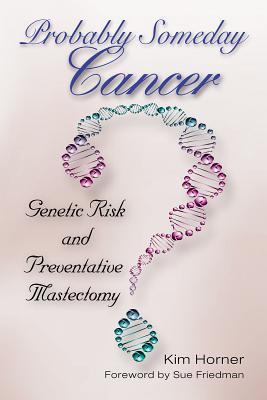 Probably Someday Cancer
Genetic Risk and Preventative Mastectomy (Mayborn Literary Nonfiction Series #9)
Hardcover

* Individual store prices may vary.
Description
Gold Winner for Foreword INDIE Award, Health category

After learning that she inherited a BRCA2 genetic mutation that put her at high risk for breast and ovarian cancer, Kim Horner's doctors urged her to consider having a double mastectomy. But how do you decide whether to have a surgery to remove your breasts to reduce your risk for a disease you don't have and may never get?

Horner shares her struggle to answer that question in Probably Someday Cancer. The mother of a one-year-old boy, she wanted to do whatever would give her the best odds of being around for her son and protect her from breast cancer, which killed her grandmother and great-grandmother in their 40s. Which would give her the best chance at a long healthy life: a double mastectomy or frequent screenings to try to catch any cancer early? The answers weren't that simple.

Based on extensive research, interviews, and personal experience, Horner writes about how and why she ultimately opted for a double mastectomy—the same decision actress Angelina Jolie made for a similar genetic mutation—and the surprising diagnosis that followed. The book explores difficult truths that get overshadowed by upbeat messages about early detection and survivorship—the fact that screenings can miss cancers and that even early-stage breast cancers can spread and become fatal.

Probably Someday Cancer is about the author's efforts to push past her fear and anxiety. This book can help anyone facing hereditary risk of breast and ovarian cancer feel less alone and make informed decisions to protect their health and end the devastation that hereditary cancer has caused for generations in so many families.

Number Nine: Mayborn Literary Nonfiction Series
Praise For Probably Someday Cancer: Genetic Risk and Preventative Mastectomy (Mayborn Literary Nonfiction Series #9)…
"Probably Someday Cancer speaks to the ambiguous, confusing status of being diagnosed with a BRCA mutation and facing increased cancer risk. With the ease and comfort of a trusted friend, Kim Horner expertly takes you through her personal journey, sharing her thoughts and evolution around the difficult decisions that she had to make about genetic counseling, testing and risk management. This is a moving and candid memoir."—from the foreword by Sue Friedman, Executive Director of Facing Our Risk of Cancer Empowered (FORCE)

"Kim Horner transparently addresses the genetic mutation that increases her chances of breast cancer. She expertly and credibly expands her narrative with relevant research, voices of others with the diagnosis, and medical and social rhetoric related to BRCA. In this moving memoir, she shares her initial uncertainties about preventative surgeries and she examines the historic silence and modern discourse that can drown out truths needed to understand the diagnosis and decision-making process. Written in an authentic voice to empower readers, Probably Someday Cancer is a must-read for anyone interested in genetics or facing hereditary risk of cancer."—Dr. Carie S. Tucker King, author of The Rhetoric of Breast Cancer: Patient-to-Patient Discourse in an Online Community

"Kim Horner's compelling Probably Someday Cancer adds important new ideas to the discussion of women's health and genetic risk of breast cancer. What do we do when new tests tell us that cancer is possible, likely, even probable? What choices do we make and what support do we need—from practitioners, family, friends, service providers—when we consider preventative measures that could save us, but will undeniably change us? This book powerfully adds to the conversation and offers a compassionate, hopeful look to wellness."—Susannah Charleson, author of Scent of the Missing: Love and Partnership with a Search-and-Rescue Dog

"Ms. Horner's account of living with a BRCA2 mutation and making the difficult decision to undergo preventive surgeries is beautifully written, highly informative, and deeply moving. This book is an outstanding resource for patients, family members, and clinicians who are facing the challenges of hereditary cancer."—Dr. Allison W. Kurian, Director, Women's Clinical Cancer Genetics Program, Stanford University School of Medicine
University of North Texas Press, 9781574417517, 208pp.
Publication Date: April 1, 2019
About the Author
KIM HORNER worked as a journalist for 21 years at newspapers including The Dallas Morning News. She received a Rosalynn Carter Fellowship for Mental Health Journalism and awards from the Texas Medical Association and Public Health Association for her coverage of the increased use of genetic testing for breast cancer risk. She lives in Richardson, Texas.
or
Not Currently Available for Direct Purchase