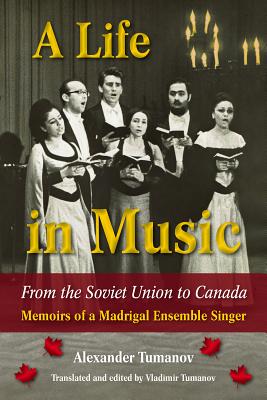 A Life in Music from the Soviet Union to Canada
Memoirs of a Madrigal Ensemble Singer (North Texas Lives of Musician Series #12)
Hardcover

* Individual store prices may vary.
Description
The musical career of Alexander Tumanov extends from Stalinist and Soviet Russia through contemporary Canada, and as such provides an inspiring portrait of one person's devotion to his art under trying circumstances. Tumanov was a founding member of Moscow's Madrigal Ensemble of early music. This ensemble was the first to introduce Renaissance and Baroque music to the Soviet Union and enjoyed tremendous popularity in the 1960s and 1970s, despite official disapproval by the Soviet bureaucracy.
 
The Ensemble was allowed to tour and perform but had to be careful when it came to certain "sensitive" musical selections, always functioning in the shadow of unpredictable behavior by the Soviet authorities. During some periods, the compositions of the group's founder, Andrei Volkonsky, were banned. Volkonsky eventually emigrated to escape the oppressive conditions, followed soon after, in 1974, by Tumanov, and the Madrigal Ensemble continued in a changed form under new leaders.
 
Once Tumanov emigrated to Canada, he became active in Canadian vocal music and the last section of the book describes the activities of the émigré musical community and Tumanov's own efforts to promote underrepresented musicians from his home country. The story of the author's subsequent life and career in Canada provides a poignant point of contrast with his Soviet period — at the musical, academic, and political levels. This book is a valuable resource for those interested in the history of music and intellectual life in Russia, Ukraine, and the Soviet Union in the twentieth century and is the first published book on the Madrigal Ensemble.
 
Number 12: North Texas Lives of Musicians Series
Praise For A Life in Music from the Soviet Union to Canada: Memoirs of a Madrigal Ensemble Singer (North Texas Lives of Musician Series #12)…
"Alexander Tumanov has given us a moving, intimate account of twentieth-century history, from his childhood in pre-World War II Ukraine through his emigration from the USSR in the 1970s. This memorable book presents both the traumas and joys of these turbulent times, illuminating many underexplored facets of Soviet life, musical and otherwise. Tumanov's central themes are the fixations and foibles of memory, celebrating those now absent but not yet forgotten."—Peter Schmelz, author of Such Freedom, If Only Musical
 
"The brilliant Russian musical diaspora—composers, conductors, and virtuosi—has long been familiar to the Western reader. Less well-known is the story of early music singing, with its rich (and risky) Western repertoire, ideologically an outsider to official Soviet vocal culture. Tumanov's memoirs provide fascinating glimpses into this professional realm, its institutions (the Gnessin music school and Madrigal ensemble), their charismatic leaders, controversial programs and well-received tours. But this book is also the personal testimony of a reluctant but grateful émigré who managed to re-establish himself and his family on North American soil, singing every step of the way. How fortunate we are to have his voice."—Caryl Emerson, Princeton University

"Alexander Tumanov writes that as a young student he learned an entire Tchaikovsky opera by heart. Well, happily, his prodigious memory has also yielded this vivid, cinematic book—a tender, intelligent family tale that's a complement to any library of historical accounts of the Soviet Union.  With as much candor about himself as his beloved country 'run by a criminal gang,' he shows us how music, just in its phrasing and melodies, can truly be politically subversive, and how creativity will survive routine assaults on independent thought."—Daniel Richler, radio and television journalist, producer, and writer

"Sprinkled with amusing anecdotes and detailed information on the lives of performers and the repertoire of Madrigal ensemble, Tumanov's memoirs are a valuable source for musicologists and cultural historians interested in the Soviet musical climate of the twentieth century and the Russian/Soviet émigré community in Europe and North America."—Adalyat Issiyeva, McGill University
 

"This revelatory memoir covers a chapter in Soviet musical life too little known in the West. The pioneering early music ensemble Madrigal enjoyed huge success before being curtailed by the Soviet authorities. . . . [A]nyone interested in life and music under the Soviet regime will be intrigued and informed by this lucid yet remarkably good-humoured memoir."--BBC Music Magazine
University of North Texas Press, 9781574417555, 448pp.
Publication Date: May 8, 2019
About the Author
ALEXANDER TUMANOV was born in the Soviet Union and earned degrees in Slavic philology and music before joining the Madrigal Ensemble in Moscow. He emigrated to Canada with his family in 1974, where he completed a PhD and joined the Department of Slavic and East European Studies at the University of Alberta. The author of the biography of Maria Olenina d'Alheim in both English and Russian, he currently lives in London, Ontario, Canada, with his wife Alla. Translator and editor VLADIMIR TUMANOV holds a PhD in comparative literature from the University of Alberta and teaches modern languages at Western University in London, Ontario, where he lives.
or
Not Currently Available for Direct Purchase