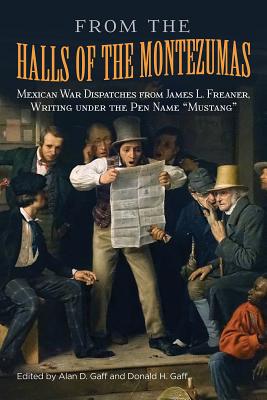 From the Halls of the Montezumas
Mexican War Dispatches from James L. Freaner, Writing under the Pen Name "Mustang" (War and the Southwest Series #14)
Hardcover

* Individual store prices may vary.
Description
James L. Freaner is one of the most important unknown Americans in our nation's history. Freaner gained fame throughout the country during the Mexican War while covering General Winfield Scott's campaign. As one of America's first war correspondents, Freaner's letters appeared in newspapers under the byline "Mustang," and his reports from the front included information unavailable elsewhere. Among Freaner's scoops were the publication of complete casualty lists (long before official reports became public), detailed battle descriptions, and observations on postwar Mexico.

      Despite his widespread fame as a reporter, Freaner's greatest contribution to the United States came during a conversation with Nicholas P. Trist, negotiator of the peace treaty with Mexico. After Trist had passed along an outrageous proposal from the Mexican commissioners, he was recalled, but Freaner convinced Trist to ignore the order and begin a new round of negotiations. Trist resumed, concluded the war, and added California, Nevada, Utah, and other territory to a growing country. This acquisition was second in size only to the Louisiana Purchase and was a direct result of James Freaner persuading Trist to brazenly conclude a treaty when he had no authority to do so.

      From the Halls of the Montezumas is a complete compilation of Freaner's Mexican War reporting. Editors Alan D. Gaff and Donald H. Gaff have annotated the text with footnotes identifying people, places, and events, and also have added illustrations of key figures and maps. They supplement Freaner's dispatches with biographical information that ranges from his early career to his journey to the gold fields of California and his untimely death at the hands of Indians in California in 1852.
Praise For From the Halls of the Montezumas: Mexican War Dispatches from James L. Freaner, Writing under the Pen Name "Mustang" (War and the Southwest Series #14)…
"Alan and Donald Gaff have a produced an important addition to the historiography of the Mexican-American War. Such an extensive collection of James L. Freaner's war dispatches represents a significant contribution to Mexican War literature, and the editor's commendable work seeks to make an important primary source widely accessible. This will be invaluable to historians who study the conflict with Mexico as well as those interested in the history of journalism."—Timothy D. Johnson, author of A Gallant Little Army: The Mexico City Campaign

"Think war reporting began with Richard Harding Davis, in the Spanish-American War? Or William Howard Russell, in the Crimean War? Meet James L. Freaner, reporter for the New Orleans Delta, during the Mexican War (1846-48.) By presenting Freaner's detailed—and entertaining—dispatches and lavishly filling in historical background with introductions and annotations, the Gaffs do a masterful job of resurrecting this pioneering war correspondent."—Chris Dubbs, co-editor of The AEF in Print: An Anthology of American Journalism in World War I

"An exceptional and long overdue book on James L. Freaner, whose short life played a pivotal role in the formation of the United States as we know it. He helped transform the way people received, viewed, and interpreted news on war. At a time when the media plays a prominent and increasing role in politics and international affairs, Alan and Donald Gaff introduces us to one of America's most important, early war correspondents."—William D. Carroll, owner of the historic Junior Fire Company firehouse in Hagerstown, Maryland, whose first president was James L. Freaner

"This is an insightful account of a forgotten but pivotal time in American history. Freaner's dispatches give a welcome first-person view of Army life in a hostile land. A very good read."—Samuel M. Thorn, Purdue University Fort Wayne
University of North Texas Press, 9781574417678, 486pp.
Publication Date: October 23, 2019
About the Author
ALAN D. GAFF is an independent scholar and President of Historical Investigations. His previous books include Bayonets in the Wilderness, Blood in the Argonne, and On Many a Bloody Field. DONALD H. GAFF is associate professor of anthropology at the University of Northern Iowa, and co-editor with Alan D. Gaff of Ordered West: The Civil War Exploits of Charles A. Curtis (UNT Press).
or
Not Currently Available for Direct Purchase