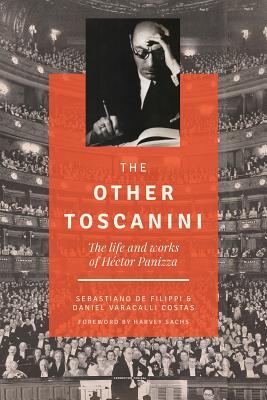 The Other Toscanini
The Life and Works of Héctor Panizza (North Texas Lives of Musician Series #13)
Hardcover

* Individual store prices may vary.
Description
Certificate of Merit for Best Historical Research in Recorded Classical Music - 2020 Association for Recorded Sound Collections Awards for Excellence
The Other Toscanini is the only book in English about the Argentine conductor and composer Héctor Panizza (1875–1967). Known all over the world by his Italian name —Ettore— the maestro was in fact born in Buenos Aires and developed an astonishing international career, becoming music director of, successively, Covent Garden, la Scala (where he conducted alongside Arturo Toscanini), Teatro Colón, and the New York Metropolitan Opera. At the Met between 1934 and 1942, he was in charge of the Italian repertoire and started the first radio broadcasts, whose recordings are his most well-known. He conducted widely in Europe and the Americas and devoted part of his energies to composing, recording, and organizing musical institutions. Now virtually forgotten, Panizza's name is being revived in this definitive biography, which describes both his life and his legacy, strongly associated with that of the great Arturo Toscanini.

The book also describes Panizza's important accomplishments as a composer. In his native Argentina, he is known for the patriotic "Canción de la Bandera," based on a text by Luigi Illica, Puccini's librettist. But Panizza also wrote operas, orchestral works, chamber music, and songs, widely performed in their day and still worthy of frequent revivals.
Praise For The Other Toscanini: The Life and Works of Héctor Panizza (North Texas Lives of Musician Series #13)…
"As the biographer of Arturo Toscanini, whom Panizza esteemed and who, in turn, honored Panizza with his trust and confidence, I have learned much from this book, which makes an important contribution to the history of twentieth-century music in Argentina and beyond."—from the foreword by Harvey Sachs, author of Toscanini: Musician of Conscience
"An absolutely fascinating read. The Other Toscanini is a charming, page-turning tribute to one of our nearly forgotten heroes."—David Itkin, author of Conducting Concerti: A Technical and Interpretive Guide
"It seems to be the fate of musicians born in the southern hemisphere to be ignored—unless they have success in the northern. Argerich, Barenboim, Ginastera, Piazzolla, Santaolalla, Lalo Schiffrin and the magnificent Teatro Colón are all Argentina's gifts to the world—but rarely thought of in those terms. Argentina provided safe haven for Carlos Kleiber, his father Erich, and their friend Michael Gielen during WW II. This also is often overlooked. In this important new book, the remarkable career of conductor-composer Héctor Panizza is rescued from the shadows, and from cultural cartography. Its authors make a thorough, documented, and fascinating case for the importance of Panizza. Admired by Puccini and Strauss, the conductor led Argentina's opera to greatness, and contributed to the same in many important houses, including La Scala, the Royal Opera House, the Staatsoper of Vienna, the Deutsche Oper of Berlin, and The Met. Were the world fair, and Panizza interested in self-promotion, his name would today be known as widely as his most brilliant contemporaries. This invaluable book tells us why, and reminds us what we have been missing all along."—Charles Barber, conductor and artistic director, City Opera Vancouver
"Panizza's name is being revived in this definitive biography, which describes both his life and his legacy, strongly associated with that of the great Arturo Toscanini. He was greatly admired for his grasp of the German as well as the Italian repertoire. . . .
The Other Toscanini
does not only give an impressive and detailed overview of his life, it draws a very good picture of the music life in Europe, in the States and in Argentina at Panizza's time."--
Pizzicato
University of North Texas Press, 9781574417746, 320pp.
Publication Date: November 11, 2019
About the Author
SEBASTIANO DE FILIPPI is currently Music Director of the National Congress Chamber Orchestra in Buenos Aires. He is the author of four books. DANIEL VARACALLI COSTAS has worked as a journalist and music critic. At Teatro Colón he was the Head of Publications and is currently Lecturer on Music History. The author of four books, he is a frequent collaborator in magazines and programs. Both authors live in Buenos Aires.
 
or
Not Currently Available for Direct Purchase