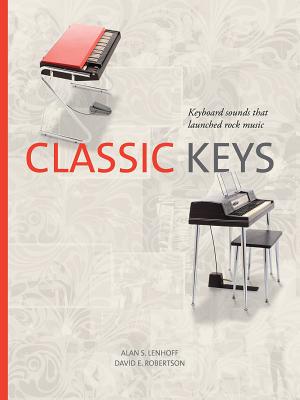 Classic Keys
Keyboard Sounds That Launched Rock Music
Hardcover

* Individual store prices may vary.
Description
Certificate of Merit for Best Historical Research in Recorded Rock or Popular Music - 2020 Association for Recorded Sound Collections Awards for Excellence
Classic Keys is a beautifully photographed and illustrated book focusing on the signature rock keyboard sounds of the 1950s to the early 1980s. It celebrates the Hammond B-3 organ, Rhodes and Wurlitzer electric pianos, the Vox Continental and Farfisa combo organs, the Hohner Clavinet, the Mellotron, the Minimoog and other famous and collectable instruments.

From the earliest days of rock music, the role of keyboards has grown dramatically. Advancements in electronics created a crescendo of musical invention. In the thirty short years between 1950 and 1980, the rock keyboard went from being whatever down-on-its-luck piano awaited a band in a bar or concert hall to a portable digital orchestra.  It made keyboards a centerpiece of the sound of many top rock bands, and a handful of them became icons of both sound and design. Their sounds live on: Digitally, in the memory chips of modern keyboards, and in their original form thanks to a growing group of musicians and collectors of many ages and nationalities.

Classic Keys explores the sound, lore, and technology of these iconic instruments, including their place in the historical development of keyboard instruments, music, and the international keyboard instrument industry. Twelve significant instruments are presented as the chapter foundations, together with information about and comparisons with more than thirty-six others. Included are short profiles of modern musicians, composers, and others who collect, use, and prize these instruments years after they went out of production.

Both authors are avid musicians, collect and restore vintage keyboards, and are well-known and respected in the international community of web forums devoted to these instruments.
Praise For Classic Keys: Keyboard Sounds That Launched Rock Music…
Please visit www.classickeysbook.com for more information.
"The story of keyboard development, the people who built them, and the part they played in our musical history has never been fully told up until now. This book is a must for all who love keyboards and their history and indeed, music in general. It should be on every music lover's bookshelf."—Rick Wakeman, keyboard player for Yes, solo artist and session player
 
"Classic Keys tells you everything you always wanted to know about vintage keyboards. It's not for squares."—Donald Fagen, keyboard player, singer and co-founder of Steely Dan 
 
"A 'dream book' for us keyboard players. Beautiful depictions of classic instruments, both in pictures and text. Accurate and well-written histories of these vintage pieces that we all love and respect. I'm still drooling over each page!"—Chuck Leavell, keyboard player for The Allman Brothers Band and musical director of The Rolling Stones
  
"A true gem. It contains information that even an avid fan with deep knowledge of the subject will find rewarding… I am stunned by the depth and detail in this wonderful tome, and the wealth of photographs. Everything is chronicled with care and love."—Steve Nieve, keyboard player for Elvis Costello and the Attractions, session player and composer
 
"An extremely thorough and informative book that reveals the evolution and inner workings of keyboard instruments that changed contemporary music for the good, forever. As an educator, I feel that this book should be required reading for every contemporary keyboardist."—Dave Limina, Piano Department Chair, Berklee College of Music, and author of Hammond Organ Complete
 
 "Needed, brilliant and timeless. Thank you!"⁠—John Novello, Hammond B-3 player for jazz fusion trio Niacin
"[A] marvelously impressive book. . . . Pretty much every significant keyboard and synth ever built and used professionally in the studio or on stage throughout the 20th Century, from the 1930s to the 1980s is at least mentioned somewhere in this enthralling and astonishingly comprehensive book. . . . It should be required reading for anyone considering a career in the audio industry, whether as a performer or an engineer/producer!"--
Sound on Sound
"This new coffee-table book is the stuff of keyboard dreams. . . .
Classic Keys
 contains a wealth of well-researched information and lots of fascinating stories from musicians, engineers, keyboard techs, and others involved with the design and enjoyment of keyboard instruments."--
Synth & Software
"If you love rock and electronic keyboards, Alan S. Lenhoff and David E. Robertson have just published 
Classic Keys: Keyboard Sounds That Launched Rock Music
 (University of North Texas Press). The 406-page coffee table book is beautifully written and features page after page of photos of electronic keyboards that gave rock its personality. There are in-depth chapters on the Hammond B-3, the Vox Continental, the Farfisa Compact, the Hohner Clavinet, the Minimoog, the Wurlitzer, the Hohner Pianet and many others. Each chapter is loaded with history about their development, the rock bands that used them and hits that featured them. Enormous fun reading through while listening to vintage vinyl."--
Jazzwax.com
"A book as beautifully presented, meticulously researched and lovingly written as
Classic Keys
, can only come about due to an inordinate amount of passion for the subject by its creators. . . . Guitar enthusiasts have long enjoyed exquisitely shot and informative coffee table books extolling the virtues of their stringed instruments, now it's the turn of the keyboard fan to enjoy a high quality record of their instrument of choice."--
Australian Musician
"
Classic Keys
is a gorgeous looking book
. . . . 
Every chapter is loaded with company history, technical notes for equipment maintenance, and practical advice about how to acquire an instrument and how much to pay for it. The text columns are complemented with sidebars of musicians and their beloved instruments, and studded with short pieces on various efforts to restore vintage models. . . . An essential purchase for libraries and collectors of rock gear."--
Association for Recorded Sound Collections Journal
University of North Texas Press, 9781574417760, 416pp.
Publication Date: December 10, 2019
About the Author
ALAN S. LENHOFF has been a writer, editor, and executive for major U.S. newspapers, and a magazine publisher.  He lives in Birmingham, Michigan. DAVID E. ROBERTSON is an industrial designer, commercial photographer, and design historian from Adelaide, Australia. He is a member of the Order of Australia for services to professional design.