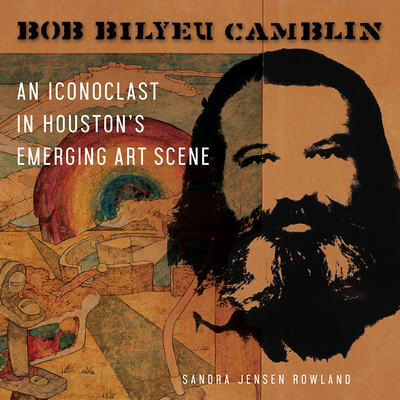 Bob Bilyeu Camblin
An Iconoclast in Houston's Emerging Art Scene
Hardcover

* Individual store prices may vary.
Description
Born in Ponca City, Oklahoma, Bob Camblin (1928–2010) was an artist, first and foremost. He earned his BFA and MFA degrees from the Kansas City Art Institute. His studies were followed by a Fulbright Fellowship that allowed him a year's stay in Italy. Returning to the USA, he held teaching positions at the Ringling Museum, the University of Illinois, Detroit Mercy, and the University of Utah before moving to Houston in 1967 to teach at Rice's new art department. He was active in Houston during the late 1960s through the 1980s, collaborating with Earl Staley and Joe Tate on many projects, including "happenings" on the beach in Galveston. His career led him to creative undertakings all over the world. Throughout his lifetime he constantly experimented with various art media. He remained open to new ideas and new techniques until his death in Louisiana in 2010.
Camblin was a central figure in the period of artistic fermentation in Houston that is now beginning to receive increasing critical attention. He chose Rowland to be his historian while still at Rice, and her insights into him are based on many personal letters and conversations. In addition, she is a trained art historian and brings to bear professional expertise about his place in regional and American art. Her work includes a useful timeline of Camblin's exhibitions and major artworks.
Praise For Bob Bilyeu Camblin: An Iconoclast in Houston's Emerging Art Scene…
"Bob Bilyeu Camblin was one of boomtown Houston's most committed, talented, and enigmatic artists; a mystical trickster-figure ripe for rediscovery now that the history of the city's art community is getting more attention. Based on extensive primary research, Sandra Jensen Rowland's biography offers both a detailed portrait of a complicated man and a historical context within which to understand him."—Pete Gershon, art historian and author of Collision: The Contemporary Art Scene in Houston, 1972-1985

"Bob Camblin's art was my portal into truly experiencing art. Every time I got a new Camblin, I would spend the next few evenings 'reading' it in bed, as if it were a book—which indeed they were—rife with pertinent references to what was going on around us. Moreso was experiencing Camblin, who considered himself a kind of distillation of art, always striving for purity in expression and excellence not only in his work but in the simple way he lived his life in total dedication to his art."—George O. Jackson, Jr., photographer and creator of The Essence of Mexico

"Bob Camblin was one of the creative forces in Houston in the 60s, 70s and 80s. He taught me through collaborative drawing and painting how to draw and to compose a picture, lessons I had not received or to which I did not pay attention. He is with me every studio day. Here he is in this marvelous love poem, warts and all, creative, exuberant, romantic and flawed."—Earl Staley, artist

"Camblin questioned everything and everybody. He loved collaborations which naturally led to discussions, questions, arguments, and laughter, along with perfect and imperfect solutions."—Penny Cerling, artist

"Camblin was a free spirit. He is considered one of Houston's old masters. Each image he created, on paper, canvas, or other materials, is primarily autobiographical, a narrative of his life. It was destiny that his Big Al painting, surrounded by red neon, would become a part of my life. Big Al reflects the joy Camblin had making art and the joy I have collecting it."—Carolyn Farb, art collector and philanthropist
"Rowland, a former student of Camblin's as well as his one-time companion, provides an intimate account of much of his life while also discussing the evolution of his art and placing it within larger artistic movements. . . . The image selection, much like Rowland's text, offers a nice balance between his art and personal life."--
Southwestern Historical Quarterly
University of North Texas Press, 9781574417890, 320pp.
Publication Date: August 26, 2020
About the Author
SANDRA JENSEN ROWLAND is an art historian who trained at Rice, where she was Camblin's student.  She was mentored by Dominique de Menil for whom she worked during the 1970s. She then ran the Texas Project for the Smithsonian's Archives of American Art from 1978 to 1985. She lives in Salt Lake City.
or
Not Currently Available for Direct Purchase