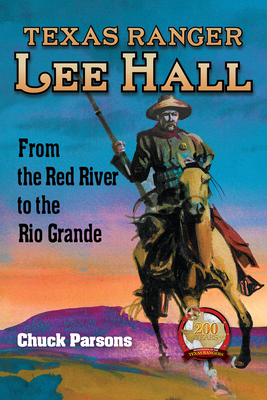 Texas Ranger Lee Hall
From the Red River to the Rio Grande
Hardcover

* Individual store prices may vary.
Description
Jesse Lee Hall (1849–1911) was one of many young men seeking a new life following the Civil War, when he left North Carolina to find adventure in Texas. After a stint as a deputy sheriff and a Sergeant-at-Arms in the House of Representatives, he joined Captain Leander McNelly's Texas Ranger Special State Troops in 1876. This was the career move that he had needed as he soon found enough action in South Texas.
When McNelly could no longer command due to illness, Hall was named to take his place. Hall was involved in arresting King Fisher and his gang, and he (with a small squad) arrested seven of the Sutton faction, effectively ending the bloody Sutton-Taylor Feud. One of his men, John B. Armstrong, finally captured the most wanted man in Texas, John Wesley Hardin, in far-off Florida. In 1878 Hall took part in the gun battle ending the career of outlaw Sam Bass.
Nearing his fiftieth birthday, Hall hoped to join Teddy Roosevelt's "Rough Riders," but that did not happen. Instead he was posted to the Philippines, where as a commander during the Philippine Insurrection he was so badly injured that he was given a medical discharge. The old warrior died in San Antonio in 1911, loved and respected, having a reputation equaled by few.
Praise For Texas Ranger Lee Hall: From the Red River to the Rio Grande…
"Digging deep into primary sources, Parsons offers his readers a true story of duty, sacrifice, and heartbreak."—Darren L. Ivey, author of The Ranger Ideal Volume 1 and Volume 2

"Chuck Parsons, the prolific author of most things Ranger, has written a compelling and, as usual, well-researched, well-written manuscript of Lee Hall's life, with special focus on his several years as a Texas Ranger (1876-1880)."—Paul N. Spellman, author of Captain John H. Rogers, Texas Ranger and Captain J.A. Brooks, Texas Ranger
"It is a well-told tale of a man who left a giant imprint on his adopted state (Hall was a native of North Carolina). This is a worthy addition to the Chuck Parsons canon and an important part of any Old West library."--
Tombstone Epitaph
"[H]istorian extraordinaire, Chuck Parsons, has done it again with a highly readable volume on Jesse Lee Hall. . . . In this generation, no historian has done more to record the history of the Texas Rangers than Chuck Parsons. Each and every book he has penned on the topic is worthy of a place on your reading list."--
Wild West History Association Journal
"The case for Hall's rightful inclusion among the Ranger greats coalesces in these pages, making
Texas Ranger Lee Hall
a composite image skillfully drawn from scattered fragments."--
Southwestern Historical Quarterly
"Succeeding the dying Captain Leander H. McNelly, Hall upheld the 'Ranger ideal' McNelly espoused."--
Wild West Magazine
"His was an exciting life from his days taming the Nueces Strip to dealing with Comanche leader Quanah Parker to his service during the Philippine Insurrection. Parsons does an exhaustive job documenting the life of this great Texan and great American."--
True West
University of North Texas Press, 9781574417906, 432pp.
Publication Date: February 12, 2020
About the Author
CHUCK PARSONS is the author of Captain John R. Hughes: Lone Star Ranger (winner of the WWHA Best Book Award); The Sutton-Taylor Feud; Captain Jack Helm; John B. Armstrong: Texas Ranger, Pioneer Rancher; and Captain L. H. McNelly. He is also co-author of A Lawless Breed: John Wesley Hardin, Texas Reconstruction, and Violence in the Wild West and Texas Ranger N. O. Reynolds. He lives in Luling, Texas.
or
Not Currently Available for Direct Purchase