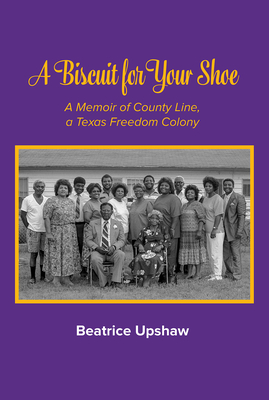 A Biscuit for Your Shoe
A Memoir of County Line, a Texas Freedom Colony (Texas Folklore Society Extra Book #28)
Hardcover

* Individual store prices may vary.
Description
A Biscuit for Your Shoe captures the lore of a community which began as a freedom colony west of Nacogdoches in East Texas, through the eyes of Beatrice Upshaw. The book is a memoir, but it shares more than merely family memories of significant events. It tells of beliefs, home remedies, folk games, and customs, as well as the importance of religion and education to a community of like-minded people. The narrative is a rich source of colloquial language and proverbial sayings that help define a group of people and their strong sense of place.
Richard Orton was first introduced to County Line by F. E. "Ab" Abernethy, the Secretary-Editor of the Texas Folklore Society for nearly four decades. Richard's introduction explains the value of the stories Beatrice Upshaw presents; they are personal, but the overall narrative speaks collectively about the perseverance and innovation of many people who found a way to not only survive, but to thrive in East Texas.
Praise For A Biscuit for Your Shoe: A Memoir of County Line, a Texas Freedom Colony (Texas Folklore Society Extra Book #28)…
"Professor F. E. 'Ab' Abernethy, told me about African American land-owner communities dating from the Emancipation. . . . places established by emancipated slaves on land they owned! My Texas and American history schooling didn't tell that story when I was growing up." —Richard Orton, from the Introduction
"The fact that our ancestors were able to establish and build a church fresh out of slavery and that we are able to maintain and improve it is a tribute to them, not to us. We are what we are because of what they were made of." —Beatrice Upshaw from A Biscuit for Your Shoe
"
A Biscuit for Your Shoe
 shares stories of love, hard work, determination, innovation, and the common heritage of existing freedom colonies as well as those that live on in memories. Its genuine depiction of the County Line freedom colony descendants stands in for African American kinship in Texas freedom colonies across the state. . . . Upshaw eloquently details moments of healing and communion essential to African American life by highlighting the role of Black maternal figures within the community and their ability to cultivate an atmosphere of strength, support, and serenity. . . . This book is for all: descendants, scholars, and voracious life-learners of all creeds and colors. It will make readers want to go ask a few more questions of that aunt or uncle who has been working on the family tree."--
Southwestern Historical Quarterly
University of North Texas Press, 9781574418125, 288pp.
Publication Date: November 23, 2020
About the Author
BEATRICE UPSHAW lives in the Upshaw Community, where she serves as one of the County Line Baptist Church musicians. Longtime photographer RICHARD ORTON was born and lives in Nacogdoches. He is the author of The Upshaws of County Line: An American Family.