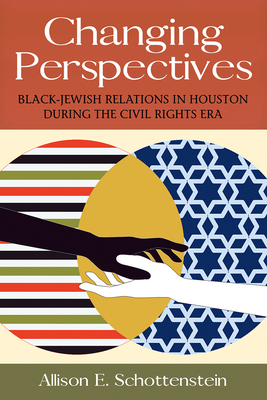 Changing Perspectives
Black-Jewish Relations in Houston during the Civil Rights Era (Texas Local Series #5)
Hardcover

* Individual store prices may vary.
Description
Winner of the Lynna Kay Shuffield Memorial Award in Texas Jewish History, 2022.

Changing Perspectives charts the pivotal period in Houston's history when Jewish and Black leadership eventually came together to work for positive change. This is a story of two communities, both of which struggled to claim the rights and privileges they desired. Previous scholars of Southern Jewish history have argued that Black-Jewish relations did not exist in the South. However, during the 1930s to the 1980s, Jews and Blacks in Houston interacted in diverse and oftentimes surprising ways.

 For example, Houston's Jewish leaders and eventually Black political leaders forged a connection that blossomed into the creation of the Mickey Leland Kibbutzim Internship in Israel for disadvantaged Black youth. Initially Houston Jewish leadership battled with their devotion to liberalism and sympathy with oppressed Blacks and their desire to acculturate. The distance between Houston's Jews and Blacks diminished after changing demographics, the end of segregation, city redistricting, and the emergence of Black political power. Simultaneously, Israel's victory during the Six-Day War caused the city's Jews to embrace their Jewish identity and form an unexpected bond with Black political leaders over the cause of Zionism
.
Allison Schottenstein shows that Black-Jewish relations did exist during the Long Civil Rights Movement in Houston. Indeed, Houston played a significant role in the scope of Southern Jewish history and in expanding our understanding of Black-Jewish relations in the United States.
Praise For Changing Perspectives: Black-Jewish Relations in Houston during the Civil Rights Era (Texas Local Series #5)…
"There is a real need for a city by city approach to create a substantive body of knowledge on this subject. Changing Perspectives provides a wealth of detail on how Houston's Jews navigated the racial politics of the places they lived."—Hasia R. Diner, author of The Jews of the United States, 1654 to 2000
 
"Changing Perspectives makes the case that Houston's civil-rights history has been exceptional in terms of the cooperation between Jews and blacks and the political empowerment of the African-American community that put them eventually on more egalitarian footing."—Leonard Rogoff, author of Down Home: Jewish Life in North Carolina and Homelands: Southern Jewish Identity in Durham-Chapel Hill and North Carolina

"Schottenstein has produced an outstanding example of local history. . . . The book is extremely well-researched. . . . As a result, the huge cast of characters, whose reflections make it into this book, impart a deeply layered description and analysis of Houston's Jewish and Black communities."--Jewish Herald Voice

"In addition to the Basic Principles and Congressman Leland, the book includes early Houston demographics and history, accounts of the struggle to desegregate the Houston ISD and businesses, of the Jewish and white gentile exodus from Riverside Terrace near TSU as Blacks began to move in, Jewish objection to prayer in the schools, and Jewish relationships with other Black leaders such as the late Congresswoman Barbara Jordan and the Reverend William Lawson. . . . Reading this book was like learning a secret history of Houston."--Houston Press
University of North Texas Press, 9781574418293, 432pp.
Publication Date: March 25, 2021
About the Author
ALLISON E. SCHOTTENSTEIN received her Ph.D. in American history with a specialty in Jewish History from the University of Texas at Austin. She currently teaches at the University of Cincinnati and its Blue Ash campus.
or
Not Currently Available for Direct Purchase