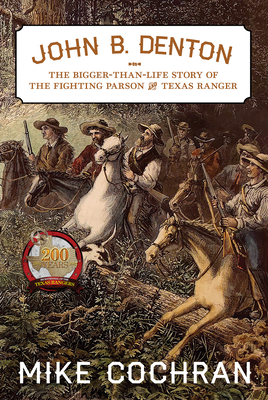 John B. Denton
The Bigger-Than-Life Story of the Fighting Parson and Texas Ranger (Texas Local Series #6)
Hardcover

* Individual store prices may vary.
Description
Denton County and the City of Denton are named for pioneer preacher, lawyer, and Indian fighter John B. Denton, but little has been known about him. In this extensive, in-depth look into the life and death of Denton, Mike Cochran has made use of new materials not available to previous biographers to help bring the story to life.

John B. Denton was an orphan in frontier Arkansas who became a circuit-riding Methodist preacher and an important member of a movement of early settlers bringing civilization to North Texas. He was a participant in the first missionary effort to bring Methodism to Texas, answering a call from William B. Travis to bring Methodists to the new republic. Denton then became a ranger on the frontier, ultimately being killed in the Tarrant Expedition, a Texas Ranger raid on a series of villages inhabited by various Caddoan and other tribes near Village Creek on May 24, 1841. He was leading a small raiding party that had separated from the larger group led by General Edward Tarrant when he was shot by native defenders.

Denton's true story has been lost or obscured by the persistent mythologizing by publicists for Texas, especially by pulp western writer Alfred W. Arrington, and by the self-aggrandizing stories told by members of the Tarrant raiding party. His death came at a time when entrepreneurs were trying to attract Anglo settlers to the Republic of Texas and were especially apt to glorify the early settlers. Denton was further made a martyr of the church by Methodist historians.

Cochran separates the truth from the myth in this meticulous biography, which also contains a detailed discussion of the controversy surrounding the burial of John B. Denton and offers some alternative scenarios for what happened to his body after his death on the frontier. This is the definitive, fact-based biography of John B. Denton.
Praise For John B. Denton: The Bigger-Than-Life Story of the Fighting Parson and Texas Ranger (Texas Local Series #6)…
"The life of Methodist circuit rider and Texas Rangers leader John B. Denton has been professionally documented in Mike Cochran's new biography. In it, he rights the wrongs by presenting full evidence on details ranging from slight (what was his real middle name?) to essential (where was Captain Denton really buried?). The full story of the namesake of my own Denton County, Texas, who gave his life during a battle against Native American forces in North Texas, will be treasured by many fans of early Texas history, the Texas Rangers, and Methodism."—Stephen L. Moore, author of the four-volume series Savage Frontier: Rangers, Rifleman and Indian Wars in Texas (UNT Press)
 
"John B. Denton is full of fine research, flows well, and places some original thinking into the mix. It is a most readable and very useful look at a man who left little behind but family."—Skipper Steely, author of War in the Redlands and editor of Red River Pioneers

"I know of few people in this world who care as much about their hometown as Mike Cochran.  It's only fitting that he takes up the mantle of telling the life story of John B. Denton, his town's namesake and a Methodist minister and lawyer who died protecting the frontier. Cochran separates fact from fiction in this biography."—Larry Francell, author of How Indian Emily Saved Fort Davis: A Legend Revisited and former director of the Museum of the Big Bend
University of North Texas Press, 9781574418408, 256pp.
Publication Date: December 6, 2021
About the Author
MIKE COCHRAN, a former Denton city councilmember, served as chair of Denton's Historic Landmark Commission and president of the Historical Society of Denton County, and continues to maintain the website dentonhistory.net. Cochran has written a catalog of O'Neil Ford's Denton works. He resides in Denton, Texas.