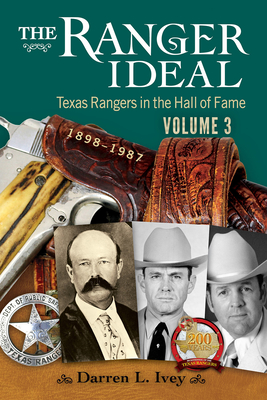 The Ranger Ideal Volume 3
Texas Rangers in the Hall of Fame, 1898-1987
Hardcover

* Individual store prices may vary.
Description
Established in Waco in 1968, the Texas Ranger Hall of Fame and Museum honors the iconic Texas Rangers, a service that has existed, in one form or another, since 1823. Thirty-one individuals—whose lives span more than two centuries—have been enshrined in the Texas Ranger Hall of Fame. They have become legendary symbols of Texas and the American West.
In The Ranger Ideal Volume 3, Darren L. Ivey presents capsule biographies of the twelve inductees who served Texas in the twentieth century. In the first portion of the book, Ivey describes the careers of the "Big Four" Ranger captains—Will L. Wright, Frank Hamer, Tom R. Hickman, and Manuel "Lone Wolf" Gonzaullas—as well as those of Charles E. Miller and Marvin "Red" Burton. Ivey then moves into the mid-century and discusses Robert A. Crowder, John J. Klevenhagen, Clinton T. Peoples, and James E. Riddles. Ivey concludes with Bobby Paul Doherty and Stanley K. Guffey, both of whom gave their lives in the line of duty.
Using primary records and reliable secondary sources, and rejecting apocryphal tales, The Ranger Ideal presents the true stories of these intrepid men who enforced the law with gallantry, grit, and guns. This Volume 3 is the finale in a three-volume series covering all of the Texas Rangers inducted in the Hall of Fame and Museum in Waco, Texas.
Praise For The Ranger Ideal Volume 3: Texas Rangers in the Hall of Fame, 1898-1987…
"Ivey's landmark three-volume work concludes with legendary twentieth-century Texas Rangers. Slowly transitioning from frontier law enforcement, their colorful personalities, judgment, and actions affected the oil boom, the Mexican revolutionary border, Prohibition, and the gangster era. In the second half-century their competence, perseverance, and self-sacrifice assured the evolution of the Texas Rangers into a world-renowned investigative agency."—Byron A. Johnson, Director, Texas Ranger Hall of Fame and Museum
 
"The Texas Rangers of the twentieth century deserve an honest, detailed, well-written history, and this book delivers that and more. The author, in recounting the careers of some of the most prominent Rangers, provides a balanced perspective of the organization as it grew into a modern law enforcement agency. This completes a set of three volumes on the Rangers that should be read by anyone interested in Texas history."—Richard B. McCaslin, author of Texas Ranger Captain William L. Wright (UNT Press)
 
"Some of the men covered in this volume have not been covered in any book, except as a passing note or description. The coverage given to all these men helps the reader to understand the dedication, and determination that is part of the Texas Ranger history."—Doug Dukes, author of Firearms of the Texas Rangers (UNT Press)
 
"This work will stand as a major contribution in the field of Texas Ranger literature. Ivey fleshed out new and undiscovered material about some inductees. The facts—genealogy, recreating routine incidents and spine-tingling episodes, along with fascinating and indispensable context—are deftly carried out with appropriate balance."—Bob Alexander, co-author of Texas Rangers: Lives, Legend, and Legacy (UNT Press)

"Ivey traces the dangerous careers of such well-known Rangers as Frank Hamer, 'Lone Wolf' Gonzaullas, Tom Hickman, and 'Red' Burton. . . . [Their] lives are superbly told by Ivey. . . . His reputation as a Ranger historian will be highly regarded for years to come."--Wild West History Association Journal

"The transition from hooves to motors and the institution of thorough criminal investigation speak loudly throughout the text. Standout coverage of Rangers Bobby Paul Doherty and Robert A. Crowder should be noted. Hamer, as always, comes off as an interesting character in Texas and Texas Ranger history that shouldn't be overlooked."--WWA Roundup

"Ranger Ideal Volume 3 works as a valuable secondary source and as a highly readable survey of Texas in transition told through the lives of twelve men charged with keeping order. While sympathetic toward his subjects, Ivey has not written a hagiography. He defines these Rangers as human beings who dedicated their lives to protection and law enforcement but occasionally stumbled along the way."--Southwestern Historical Quarterly
University of North Texas Press, 9781574418439, 864pp.
Publication Date: August 9, 2021
About the Author
DARREN L. IVEY is an independent researcher who lives in Manhattan, Kansas. He is the author of The Ranger Ideal Volume 1: Texas Rangers in the Hall of Fame, 1823–1861 and The Ranger Ideal Volume 2: Texas Rangers in the Hall of Fame, 1874–1930.
or
Not Currently Available for Direct Purchase