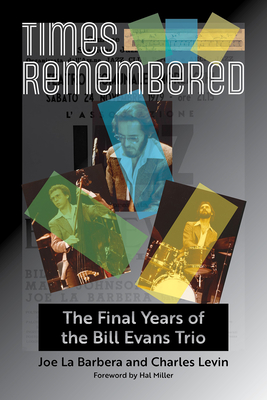 Times Remembered
The Final Years of the Bill Evans Trio (North Texas Lives of Musician Series #15)
Hardcover

* Individual store prices may vary.
Description
In the late 1970s legendary pianist Bill Evans, one of the most influential jazz musicians of all time, was at the peak of his career. He revolutionized the jazz trio (bass, piano, drums) by giving each part equal emphasis in what jazz historian Ted Gioia called a "telepathic level" of interplay. It was an ideal opportunity for a sideman, and after auditioning in 1978, Joe La Barbera was ecstatic when he was offered the drum chair, completing the trio with Evans and bassist Marc Johnson.

In Times Remembered, La Barbera and co-author Charles Levin provide an intimate fly-on-the-wall peek into Evans's life, critical recording sessions, and behind-the-scenes anecdotes of life on the road. Joe regales the trio's magical connection, a group that quickly gelled to play music on the deepest and purest level imaginable. He also watches his dream gig disappear, a casualty of Evans's historical drug abuse when the pianist dies in a New York hospital emergency room in 1980. But La Barbera tells this story with love and respect, free of judgment, showing Evans's humanity and uncanny ability—even in his final days—to transcend physical weakness and deliver first-rate performances at nearly every show.

Times Remembered includes a foreword by Hal Miller, a discography of the band's work, and numerous "breakout boxes" with reminiscences by musicians who knew Evans, interspersed with La Barbera's memories of the same times.
Praise For Times Remembered: The Final Years of the Bill Evans Trio (North Texas Lives of Musician Series #15)…
"Times Remembered is the perfect book on jazz to be published at the perfect time. No other book on Evans has the personal, first-person point of view. This is an important, and perhaps essential, contribution to jazz scholarship. Joe La Barbera gives us a candid insight into one of the most important and influential performers in the history of jazz."—Bruce Klauber, author of World of Gene Krupa, and writer/producer of Warner Brothers' DVD series, Jazz Legends
 
"As the drummer with Bill Evans from 1978-1980, author Joe La Barbera recounts stories that take readers into the creative process of the Bill Evans Trio. From tune selection, to musical interaction and time feel, La Barbera finally tells the inside story of the musical genius of Bill Evans. In addition to the rare musical insight, readers get a true sense of Bill Evans the friend, father, band leader, and artist. It wasn't always happy or easy to read about the end of Evans's life, but thanks to La Barbera's great writing the story unfolded with humility, love, and honesty."—Chris Smith, author of The View from the Back of the Band: The Life and Music of Mel Lewis

"An insightful, intimate look into the mind, music and travels of pianist Bill Evans and his trio during his turbulent final years, as remembered by his colleague and friend Joe La Barbera. Many gems are revealed, from Evans's reflections on recording Kind of Blue with Miles Davis, to his conceptions on the art of playing trio, to thought provoking words of guidance for students of jazz—all providing a deeper recognition of the humanity and genius of the man."—Renee Rosnes, Juno Award-winning jazz pianist and composer

"There's much to say about the final Bill Evans Trio. Formed in early 1979, with Marc Johnson on bass and Joe La Barbera on drums, the trio was at times stormy, brooding and always deeply passionate. Many of their live recordings were strong and revealing, . . .  Joe La Barbera was both an eye-witness to Evans's last 21 months and a participant in the great music the trio produced. . . . Joe and his co-writer, Charles Levin, write lovingly but impartially about the trio's ups and downs and Evans's final hours prior to his passing. An informative first-hand read about a beautiful and tragic subject"--Jazzwax

"[T]he perspectives and insights we receive from this fascinating, fly-on-the-wall memoir are substantial and quite significant. . . . La Barbera's observations, perceptions, and interactions with Evans during that period—those both musical and mundane— are expressed with great clarity, insights, and an obvious love for the pianist. . . . Times Remembered offers readers exceptional insights into the world of Bill Evans and his fellow performers."--All About Jazz

"Evans died of his addiction just 19 months later, while La Barbera was still with the band. The triumphs and tribulations of that final edition of the Evans trio (with Marc Johnson on bass) are the subjects of La Barbera's frank and touching memoir. . . . Joe La Barbera has dug deep into his memory bank for this memoir. He has not sensationalized the details, and while we can understand the pain and frustration of watching his employer, friend, and mentor gradually losing his will to live, La Barbera's narrative makes us believe that he still holds a great deal of love and admiration for Bill Evans."--Jazz History Online
University of North Texas Press, 9781574418446, 256pp.
Publication Date: October 20, 2021
About the Author
JOE LA BARBERA has performed with world-class jazz artists including Bill Evans, Woody Herman, Chuck Mangione, Michael Brecker and Toots Thielemans. From 1993 until 2021 he was on the faculty of the California Institute of the Arts. He resides in Woodland Hills, California. CHARLES LEVIN has written for the Ventura County Star, DownBeat, Jazziz, and the Monterey Jazz Festival Program. He has a BFA and MFA from the California Institute of the Arts and played drums professionally for thirty years. He lives in Ventura, California.