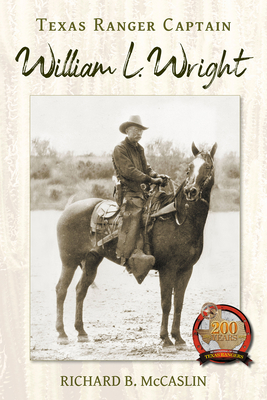 Texas Ranger Captain William L. Wright
Hardcover

* Individual store prices may vary.
Description
William L. Wright (1868-1942) was born to be a Texas Ranger, and hard work made him a great one. Richard B. McCaslin argues that, considering his lineage, it is hard to imagine what else he might have done. Eight of Wright's relatives served as Rangers before the Civil War, five joined the Frontier Battalion from 1874 to 1901, and twenty-two were in the Ranger Force from 1901 to 1935.  Wright tried working as a cowboy and farmer, but it did not suit him. Instead, he became a deputy sheriff and then a Ranger in 1899, battling a mob in the Laredo Smallpox Riot, policing both sides in the Reese-Townsend Feud, and winning a gunfight at Cotulla.

His need for a better salary led him to leave the Rangers and become a sheriff. He stayed in that office longer than any of his predecessors in Wilson County, keeping the peace during the so-called Bandit Wars, investigating numerous violent crimes, and surviving being stabbed on the gallows by the man he was hanging. When demands for Ranger reform peaked, he was appointed as a captain and served for most of the next twenty years, retiring in 1939 after commanding dozens of Rangers.

Wright emerged unscathed from the Canales investigation, enforced Prohibition in South Texas, and policed oil towns in West Texas, as well as tackling many other legal problems. When he retired, he was the only Ranger in service who had worked under seven governors. More important, historians have included him among the "Big Four" captains of the Ranger Force. Wright thus joins such leaders as Francis A. "Frank" Hamer, Thomas R. "Tom" Hickman, and Manuel T. Gonzaullas, all of whom accompanied him in being inducted into the Texas Ranger Hall of Fame at Waco.
Praise For Texas Ranger Captain William L. Wright…
"McCaslin's strong suit is prodigious research—this is solidly based on archival sources. While not glossing over Wright's weaknesses and prejudices, McCaslin has produced an overdue and balanced biography of Will Wright."—Charles Harris, co-author of The Texas Rangers and the Mexican Revolution: The Bloodiest Decade, 1910-1920
 
"The author offers a long-needed account of the life of legendary Texas lawman William L. Wright, whose career spanned times of great turmoil and transition, from the old frontier of horseback Rangers hunting cattle rustlers and gunslinging outlaws to the new frontier of motorized Rangers chasing machine-gun toting bank robbers and brazen bootleggers. This is a meticulously researched and carefully crafted story."—Michael Collins, author of Texas Devils: Rangers and Regulars on the Lower Rio Grande, 1846–1861
 
"This book will be extremely significant. As the first such biography, McCaslin and his research will almost certainly be cited in any future Ranger work mentioning Wright and his career."—Darren L. Ivey, author of the three-volume Ranger Ideal series (UNT Press)

"He had the record of having served as a Ranger under seven Texas governors. . . . This is a spell-binding book, one that all fans of Texas Ranger history will enjoy."--Wild West History Association Journal

"Any student of the Texas Rangers will find this biography a worthy addition to their reading list. Well-written and thoroughly researched, Wright's life and personality come to life with anecdotes and stories that read like the best Western literature."--WWA Roundup
University of North Texas Press, 9781574418453, 416pp.
Publication Date: October 22, 2021
About the Author
RICHARD B. McCASLIN, TSHA Professor of Texas History at the University of North Texas, is the author of Tainted Breeze: The Great Hanging at Gainesville, Texas, October 1862; Lee in the Shadow of Washington; Fighting Stock: John S. "Rip" Ford in Texas; and Sutherland Springs, Texas (UNT Press).
or
Not Currently Available for Direct Purchase