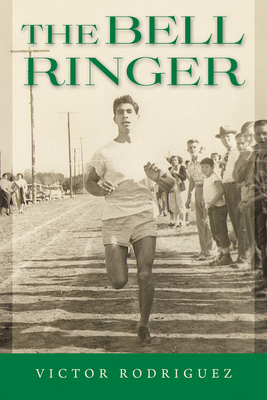 The Bell Ringer (Al Filo
Mexican American Studies Series #11)
Hardcover

* Individual store prices may vary.
Description
This is the story of Victor Rodriguez, a man who began life with few advantages but who had continuing encouragement to persevere from the people who knew him best. From his earliest days in South Texas in the 1940s he broke many barriers. He and his sisters were among the first children in their town to advance from the fourth grade of the Mexican American school to the Anglo school and then to high school. As a football player and track star he set records and won trophies at Edna High School, at Victoria College, and at North Texas State College. At each stage of his education, he often found himself the only Mexican American in his group.

His prowess in sports was based on the endurance he developed as the bell ringer for the church in Edna, when his teacher assigned him the task in the third grade as his "personal civic responsibility." For nine years he rose at 4 a.m. to jog two miles to the church, dodging dogs along the way, to ring the bell before Mass. Within a decade, that commitment would serve him well as he distinguished himself as a standout in school and college cross-country running and track athlete. He earned the first Hispanic scholarships as an athlete at both Victoria Junior College and North Texas State College.

After earning his degree at North Texas State in 1955, he began a career in the San Antonio School District (SASD) as a teacher and coach in Cooper Middle School. Subsequently he became coach at Lanier and then Highlands high schools, where he took track teams to new titles and fostered individual athletes to personal achievements. After a series of promotions through the administration of SASD, he retired in 1994 after twelve years as Superintendent of the District. As a pioneer Mexican American educator in San Antonio, he brought dignity and respect to the people of the Westside, where he remains a role model today.
Praise For The Bell Ringer (Al Filo: Mexican American Studies Series #11)…
"This is about the bell ringer, a young kid who for years jogged two miles from his home in Edna to ring the St. Agnes Catholic Church bell at 5 a.m. It's about a boy who used that early morning rise and long run to teach himself discipline while rounding into condition for future greatness. It's about a small-town country boy who found fame in big cities as he climbed countless ladders to success. It's about an athlete who became a coach and earned many awards and at least a dozen trophies. It's about an educator who earned more degrees than you'll find in an old stove. This then is about an old friend, Dr. Victor Rodriguez, who retired in 1994 as superintendent of the San Antonio School District."—Dan Cook, sports journalist
 
"Rodriguez's accomplishments are all the more impressive when we consider that he is a first in many categories and that he had few Mexican American role models to emulate.  This book's appeal is that Rodriguez' life is interesting and the story is well told.  Indeed, this story can serve as a role model to both young and old."—Ricardo Romo, author of East Los Angeles: History of a Barrio
 
"An inspirational book about a young boy who grew up to become an outstanding educator through hard work, faith, and perseverance. It also illustrates how Victor Rodriguez used the important life lessons he learned as an athlete to succeed in the classroom and throughout his career. Like Victor Rodriguez, The Bell Ringer is a winner. It should be required reading for high school students throughout the United States."—David Flores, assistant sports editor/columnist, San Antonio Express-News
 
"Manuela Rodriguez showed her children the power of God's grace. Victor's first teacher showed him the power of an education. She taught him to believe that, as an American—with hard work and the willingness to compete—he could be anything he wanted to be. Victor came to see the innate goodness within people of all races, and their desire to help one another, particularly the less fortunate. Athletics opened educational opportunities for him. He proves the truth of John Wooden's statement: 'Sports do not build character. They reveal it.' By his attitude, demeanor, and personality he changed the culture around him and grew to be seen as 'belonging'—a person, an individual, loved and respected by all who knew him."—Don Hand, San Antonio attorney and past president of Optimist International
University of North Texas Press, 9781574418460, 224pp.
Publication Date: December 6, 2021
About the Author
VICTOR RODRIGUEZ earned his bachelor and master's degrees in art education from North Texas State College (now the University of North Texas) and a Ph.D. from the University of Texas at Austin. He retired after twelve years as Superintendent of the San Antonio School District and lives in San Antonio, Texas.