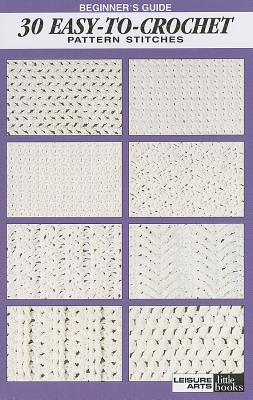 Beginner's Guide 30 Easy-To-Crochet Pattern Stitches (Paperback)
Leisure Arts, 9781574869545, 22pp.
Publication Date: February 1, 2004
Description
Are you eager to broaden your horizons by learning more elegant - yet easy - crochet techniques? Then this Beginner's Guide is for you Step-by-step instructions and detailed diagrams teach you 30 fast, fun stitches. Once you've mastered the basics, use these simple skills to fuel your creativity as your fashion your own designs. So let your imagination run free, and reach for this handy book any time you want to learn something new or add an exciting texture to a project.
Little Book format presents basic crochet stitches plus 30 versatile pattern stitches: Lattice, Faggot Stitch, Web, Crosshatch, Vertical Scallop, 3-DC Shell Stitch, Acacia Stitch, Shadow Box, Crosses, Lacy V, Bow Ties, Granule Stitch, DC Diamonds, Diagonal Fence, Treble Cables, Alternate Stitch, Shells & Cords, Flying Shell, HDC Puffs, Picot Bricks, Fans & Clusters, Puff Shells, Exchange Stitch, Clusters & Crosses, Crunch Stitch, Garden Rows, Leaf Stitch, Herringbone, Honeycomb, and Sweet Pea.
Advertisement