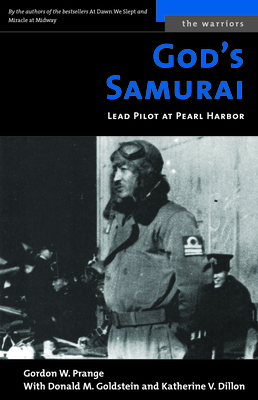 God's Samurai (Mass Market)
Lead Pilot at Pearl Harbor (The Warriors)
Potomac Books, 9781574886955, 384pp.
Publication Date: November 1, 2003
* Individual store prices may vary.
Description
God's Samurai is the unusual story of Mitsuo Fuchida, the career aviator who led the attack on Pearl Harbor and participated in most of the fiercest battles of the Pacific war. A valuable record of major events, it is also the personal story of a man swept along by his times. Reared in the vanished culture of early twentieth-century Japan, war hero Fuchida returned home to become a simple farmer. After a scandalous love affair came his remarkable conversion to Christianity and years of touring the world as an evangelist. His tale is an informative, personal look at the war "from the other side."
About the Author
Donald M. Goldstein is a retired United States Air Force officer, professor emeritus of public and international affairs at the University of Pittsburgh, where he taught for thirty-five years, a winner of two Peabody Awards, and author of many books. He has also taught at the Air Force Academy, the Air War College, the Air Command and Staff College, the University of Tampa, and Troy State University. He is considered the leading authority on the Pearl Harbor attack. He lives in the Villages, Florida.
Katherine V. Dillon (1916-2005) was a chief warrant officer, United States Air Force (retired), and longtime collaborator with Gordon W. Prange and Donald M. Goldstein on their work. She served during World War II and the Korean War.
Praise For God's Samurai: Lead Pilot at Pearl Harbor (The Warriors)…
"Exciting, moving, and spiritually rewarding."—Publishers Weekly
 
"Engrossing . . . intriguing . . . arresting."—Kirkus Reviews
 
"A window on the Japanese psyche and the experience of World War II."—Stars and Stripes
 
"A dramatic and historically interesting life."—Library Journal