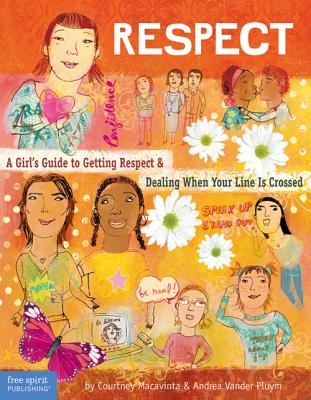 Respect (Paperback)
A Girl's Guide to Getting Respect & Dealing When Your Line Is Crossed
Free Spirit Publishing, 9781575421773, 240pp.
Publication Date: June 15, 2005
* Individual store prices may vary.
Description
This smart, savvy book helps teen girls get respect and hold on to is no matter what—at home, at school, with their friends, and in the world. Tips, activities, writing exercises, and quotes from teens keep readers involved. This "big sister" style inspires trust. Girls learn respect is connected to everything, every girl deserves respect, and respect is always within reach because it starts on the inside. This book is your guide to getting respect and keeping it.
About the Author
Courtney Macavinta is an investigative journalist whose articles have been syndicated by the Associated Press and published by the Washington Post, Wired News, Red Herring, Business 2.0, and the Sacramento Bee online. Fighting for young women's empowerment has always been Courtney's passion. Until 2001, she was the editorial director of ChickClick, where she oversaw publishing and helped relaunch the network to cover topics such as body image, health, and getting into college. In 2002 Courtney received a Fund for Investigative Journalism grant to investigate women's working conditions in Silicon Valley, and she has appeared on radio, TV, and in national print media as an expert on subjects from women's media to politics. She has collaborated or volunteered with Girls For A Change, the YMCA, CanTeen, Our Schools, Our Media, the Ms. Foundation's Take Our Daughters and Sons to Work Day, and Planned Parenthood Federation of America's teenwire.com. Courtney lives in San Jose, California.

Andrea Vander Pluym is the author of What Should I Do?, an advice book for preteen girls. Her articles and columns have appeared in Teen, Planet Girl, Shape, Variety, Los Angeles View, and other publications. In 1999, she joined ChickClick, where she launched new content including teen essays and fiction and oversaw daily production as managing editor. She volunteers as an assistant instructor for teen self-defense workshops, and has volunteered with Bay Area Teen Voices, Girls in the Hall, and GirlVentures. Andrea lives in the San Francisco Bay area with her family.

Praise For Respect: A Girl's Guide to Getting Respect & Dealing When Your Line Is Crossed…
"The splashy, magazine-style layout, with lots of illustrations and sidebar activities, make this an attractive read for girls."—Youth Today
"Junior and senior high girls, as well as their older sisters and mothers, will find it challenging and clarifying."—Voice of Youth Advocates
"Powerful and positive message."—Children's Literature
"Informative and interactive."—Chicago Tribune
iParenting Media Award Winner
Independent Publisher Book Award Winner
iParenting Media Awards Greatest Products, Winner