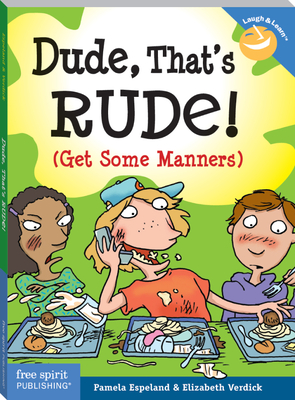 Dude, That's Rude!
(Get Some Manners) (Laugh & Learn®)
Paperback

* Individual store prices may vary.
Description
Kids today need manners more than ever, and Dude, That's Rude! makes it fun and easy to get some. Full-color cartoons and kid-friendly text teach the basics of polite behavior in all kinds of situations—at home, at school, in the bathroom, on the phone, at the mall, and more. Kids learn Power Words to use and P.U. Words to avoid, why their family deserves their best manners, and the essentials of e-tiquette (politeness online). It seems like light reading, but it's serious stuff: Manners are major social skills, and this book gives kids a great start.
Praise For Dude, That's Rude!: (Get Some Manners) (Laugh & Learn®)…
iParenting Media Award Winner: Excellent Product for 2007

"Boys will love this! Rather than getting yelled or preached at, this book takes a fun look at typical forms of rudeness and makes them totally uncool. Being polite, kind to others, is a first step in helping a child walk the talk of social justice."
— Reach and Teach

"In a humorous but informative fashion, Dude, That's Rude! will provide kids with the necessary do's and don'ts of good manners, the reasons why they are important, and lots of effective 'smooth moves' for sticky situations."
— Sally Hengeveld, librarian, The Stratford Gazette
Free Spirit Publishing, 9781575422336, 128pp.
Publication Date: January 15, 2007
About the Author
Pamela Espeland has authored, coauthored, or edited over 200 books for Free Spirit Publishing on a variety of subjects. Pamela graduated from Carleton College in Northfield, Minnesota and currently lives in Minneapolis with her husband, John Whiting, and two little dogs.

Elizabeth Verdick is a children's book writer and editor. She lives in Minnesota with her husband and their two children.