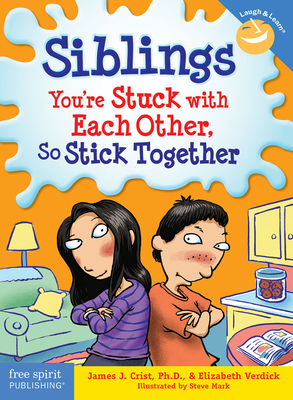 Siblings (Paperback)
You're Stuck with Each Other, So Stick Together (Laugh & Learn®)
Free Spirit Publishing, 9781575423364, 112pp.
Publication Date: January 15, 2010
* Individual store prices may vary.
Description
Brothers and sisters: they can make great friends, and it's nice to have someone who'll love you no matter what. But kids know siblings can be a real drag, too. Full-color illustrations and humorous, kidfriendly text teach kids how to cope with problems of fairness, jealousy, conflict, tattling, privacy, and other things that can make having siblings so difficult. Kids learn how to cope with a new baby in the home and how to handle special situations such as siblings with special needs, step-siblings, and adopted siblings. Unlike most other books on the topic, Siblings doesn't dwell on sibling rivalry; it focuses on building positive relationships. After all, siblings can grow up to be the best of friends.


About the Author
James J. Crist, Ph.d., CSAC, is a licensed clinical psychologist and a certified substance abuse counselor with the Child and Family Counseling Center in Woodbridge, Virginia. He works with a wide variety of clients, including children, adolescents, adults, couples, and families. He specializes in working with attention disorders, depression, bipolar disorder, anxiety disorders, and drug and alcohol abuse. He also is an adjunct faculty member in the professional counseling program at Argosy University. Dr. Crist is the author of What to Do When You're Scared & Worried, What to Do When You're Sad & Lonely, Mad, and other books.

Elizabeth Verdick is the author of more than 30 highly acclaimed books for children and teenagers, including books in the Toddler Tools™ board book series, the Best Behavior ™ series for young children, and the Laugh & Learn series for preteens. Her most recent titles include Diapers Are Not Forever and Listening Time and Bye-Bye Time from the Toddler Tools series. Elizabeth lives with her husband, daughter, son, and five pets near St. Paul, Minnesota.

Praise For Siblings: You're Stuck with Each Other, So Stick Together (Laugh & Learn®)…
"Starting with the wry subtitle and the colorful cover cartoon of two fuming kids standing back to back, this lively title uses accessible humor to approach sibling-related topics, such as birth order, privacy, jealousy, bullying, and bonding. The authors discuss each subject in a child-centered, casual, and humorous tone; tips about how to "get the jealousy monster off your back," for example, are illustrated with a cartoon of a huge purple creature towering over a kid's shoulder. Included are chapters about siblings with special needs, stepsibs, and bonding with older sibs (respect their privacy) and younger sibs ("practice asking, not bossing"). The book's open design and interactive features, such as quick checklists and quizzes, help make this a great choice for kids and grownups to talk and laugh about together. A final note and bibliography aimed at parents and caregivers will further aid family discussions."
—Booklist
 
"Offers children and parents several solutions to common problems" —Tulsa World
"The authors are real, authentic, not preachy, and I'm able to use [the book] to start conversations at my house about all things siblings."—Homeschooling, Autism, & Stuff Blog
"Get this book and leave it somewhere one of your children will see it!"—The Siblings' Busy Book Blog
"Siblings: You're Stuck with Each Other, So Stick Together is a great mental health handbook to the thorny problem field of sibling relationships, the search for peace and harmony. This creative, colorful, humor-laden book contains tons of ideas and suggestions for ways to enrich and improve anyone's given sibling relationships. Some specific topic areas are: How Birth Order Affects Your Relationship, Top 10 Sticky Situations and Survival Secrets, 5 Ways to Forge a Fabulous Friendship, a Note for Parents and Caregivers, and many more. Siblings  is particularly helpful in that it focuses on strengthening and developing positive sibling relationships rather than just subjecting the rivalry or negative aspects of the relationship to analysis and scrutiny. Special sibling problem areas that are dealt with also include half siblings, step siblings, adopted siblings and siblings with special needs. In addition, the Note to Parents and Caregivers includes advice on When Professional Help is Needed, such as "If one child bullies the others, fighting happens often and ruins family plans, or if a child's self esteem suffers.." (p. 115) Siblings: You're Stuck with Each Other, So Stick Together is a practical and fun resource for kids, parents and mental health and teaching professionals."—Midwest Book Review: MBR Bookwatch
"A useful addition."—School Library Journal
or
Not Currently Available for Direct Purchase