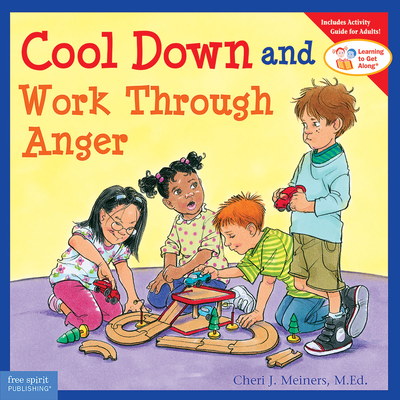 Cool Down and Work Through Anger (Learning to Get Along®) (Paperback)
Free Spirit Publishing, 9781575423463, 40pp.
Publication Date: May 1, 2010
Other Editions of This Title:
Paperback (9/15/2014)
* Individual store prices may vary.
Description
Everyone gets angry, so it's never too early for children to learn to recognize feelings of anger, express them, and build skills for coping with anger in helpful, appropriate ways. Children learn that it is okay to feel angry—but not okay to hurt anyone with actions or words. They discover concrete skills for working through anger: self-calming, thinking, getting help from a trusted person, talking and listening, apologizing, being patient, and viewing others positively. Reassuring and supportive, the book helps preschool and primary-age children see that when they cool down and work through anger, they can feel peaceful again.

About the Author
Cheri J. Meiners, M.Ed., has her master's degree in elementary education and gifted education. A former first-grade teacher, she has taught education classes at Utah State University and has supervised student teachers. Cheri and her husband, David, have six children and live in Maryland.
Praise For Cool Down and Work Through Anger (Learning to Get Along®)…
"Cool Down and Work Through Anger is an excellent book for helping children understand this unpleasant but normal emotion. The book takes an evidence-based approach which is recommended in the early childhood field. When their teacher reads this book, children will learn that feeling angry is perfectly normal but that hurting somebody because you are angry is not acceptable. The book gives very helpful strategies for helping children deal with anger."
—Marian Marion, Ph.D., Professor, Early Childhood Education, Governors State University
"A delightful addition to the series. I particularly like the focus on what kids can do to handle their anger more constructively, rather than focusing on what not to do. . . . Will appeal to kids as well as those who work with them."
—James J. Crist, Ph.D., author of What to Do When You're Scared and Worried and Mad
 
"Cool Down and Work Through Anger is an excellent anger-management toolbox written at reading level 1–2 for kids ages 4–8. Full-color illustrations provide examples of kids experiencing anger management problems and solutions. Cool Down and Work Through Anger is described as a gentle empowering book that helps kids channel their anger by giving constructive alternatives, rather than focusing on what not to do. Cool Down and Work Through Anger is very accessible and kid-friendly without talking down to kids. Its simple, direct language provides real models of better ways to interact and deal with anger. Cool Down and Work Through Anger is a paperback book that includes an activity guide for adults with specific suggestions for ways to reinforce helpful ideas and also a number of suggested games and activities to resolve anger. Cool Down and Work Through Anger is part of the Learning to Get Along series from Free Spirit Publishing. Cool Down and Work Through Anger is highly recommended for kids ages 4–8 who have anger management issues or concerns."
—Midwest Book Review, Children's Bookwatch: Reviewer's Choice
 
or
Not Currently Available for Direct Purchase