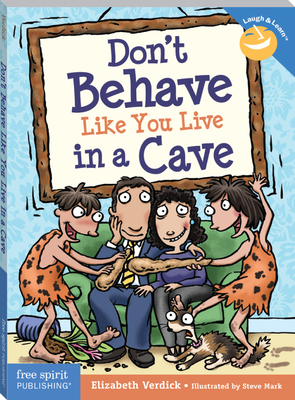 Don't Behave Like You Live in a Cave (Laugh & Learn®) (Paperback)
Free Spirit Publishing, 9781575423531, 128pp.
Publication Date: October 1, 2010
* Individual store prices may vary.
Description
Full-color cartoons and humorous, kid-friendly text teach kids how to make smarter choices about how they behave at home and at school so they stay out of trouble, feel good about themselves and their choices, and get along better with family, friends, and teachers. Better behavior isn't just about making adults happy: it means selfcontrol, awareness, and a positive outlook, so things go better for kids. Lighthearted yet supportive and frank, this book helps readers learn to make thoughtful, deliberate, positive behavior decisions. Behavior issues addressed include small ones, like talking or blurting out in class, as well as bigger ones, such as fighting.
Don't Behave Like You Live in a Cave is the latest addition to the award-winning Laugh & Learn™ series.
About the Author
Elizabeth Verdick is a children's book writer and editor. She has authored and coauthored many books, including several in the Laugh & Learn series (Dude, That's Rude!; See You Later, Procrastinator!; How to Take the Grrrr Out of Anger; Stress Can Really Get on Your Nerves!; True or False? Tests Stink!; Siblings), as well as Words Are Not for Hurting, Germs Are Not for Sharing, Bye-Bye Time, Manners Time, and many more. Elizabeth lives in Woodbury, Minnesota, with her husband and their two children.
Praise For Don't Behave Like You Live in a Cave (Laugh & Learn®)…
"Talks to children on their own level, and in a funny way, so that it doesn't feel like someone is preaching at them."—Examiner.com