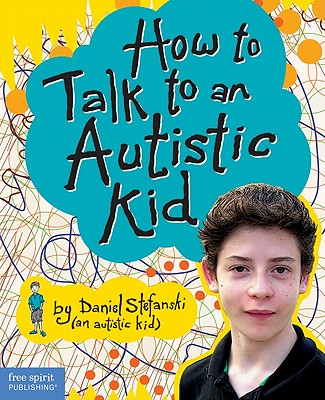 How to Talk to an Autistic Kid
Hardcover

* Individual store prices may vary.
Description
Kids with autism have a hard time communicating, which can be frustrating for autistic kids and for their peers. In this intimate yet practical book, author Daniel Stefanski, a fourteen-year-old boy with autism, helps readers understand why autistic kids act the way they do and offers specific suggestions on how to get along with them.
While many "typical" kids know someone with autism, they sometimes misunderstand the behavior of autistic kids, which can seem antisocial or even offensive–even if the person with autism really wants to be friends. The result of this confusion is often painful for those with autism: bullying, teasing, excluding, or ignoring. How to Talk to an Autistic is an antidote. Written by an autistic kid for non-autistic kids, it provides personal stories, knowledgeable explanations, and supportive advice–all in Daniel's unique and charming voice and accompanied by lively illustrations.
Always straightforward and often humorous, How to Talk to an Autistic Kid will give readers–kids and adults alike–the confidence and tools needed to befriend autistic kids. They'll also feel like they've made a friend already–Daniel.
Praise For How to Talk to an Autistic Kid…
"Clearly explain[s] the difficulties with communication and social interactions that frequently accompany autism, while urging readers to reach out to and stick up for autistic children."—Publishers Weekly
"While the book is short and written in language that is easy to understand, it does an impressive job of speaking directly and succinctly about the issues and offering solutions . . . This book could be used as a read-aloud, with a teacher or therapist working either with a mixed group of children or those on the spectrum, giving them words to use in social and school settings."—School Library Journal
Best of the Best 2012—Chicago Public Library
"Perfect for introducing the topic of autism to grade school and middle school students." —Green Bay Press-Gazette
Who better to explain the challenges of typical kids communicating with autistic kids than 14-year-old Daniel Stefanski, who has autism? "Even though my brain is different, I'm still a kid." And like any kid who's been ignored, Daniel can often feel lonely. Through his casual and frank first-person narration, accompanied by two-tone digital illustrations, he recognizes that autistic kids may look and sound different when trying to communicate, but they still want to be included. After explaining how autistic kids have trouble understanding figures of speech and body language, often get "stuck" on one topic, and may have sensitivity to loud noises or bright lights, etc., he offers suggestions on how to engage autistic kids and give them social cues ("Excuse me, could you step back just a bit? I need a little more space"). The teen also addresses bullying (and yes, he can tell the difference between laughing with him and at him). Daniel's insight, courage, and hopefulness make this an accessible guide to bridging the gap of diversity.—Booklist
"I just love the feel-good message of this book . . . one of the best children's books on autism that I have seen . . . This book will help the children and teens of today become the compassionate adults of tomorrow, as they learn how to relate to the increasing numbers of people being diagnosed with ASD."—Autism National Committee
Learning Magazine Teachers' Choice Award for the Family
Free Spirit Publishing, 9781575423654, 48pp.
Publication Date: April 1, 2011
About the Author
Daniel Stefanski is fourteen years old and autistic. He has a passion for writing and drawing and likes to declare proudly "I'm autistic and artistic." A talented golfer, Daniel has participated in the Special Olympics and other competitive golf events. At age four, he was adopted from an orphanage in Bulgaria and flew 18 hours with his new mom to his new home in Valparaiso, Indiana. An animal lover and shelter volunteer, Daniel is surrounded by the love of his mom, dad, stepfather, brother, and five dogs.
or
Not Currently Available for Direct Purchase