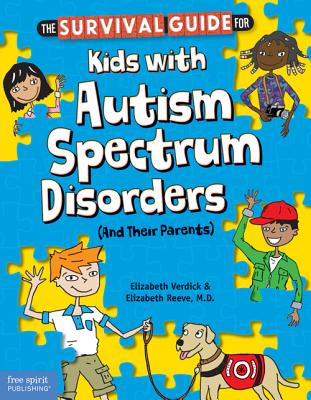 The Survival Guide for Kids with Autism Spectrum Disorders (and Their Parents) (Paperback)
Free Spirit Publishing, 9781575423852, 240pp.
Publication Date: March 22, 2012
* Individual store prices may vary.
or
Not Currently Available for Direct Purchase
Description
This positive, straightforward book offers kids with autism spectrum disorders (ASDs) their own comprehensive resource for both understanding their condition and finding tools to cope with the challenges they face every day. Some children with ASDs are gifted; others struggle academically. Some are more introverted, while others try to be social. Some get "stuck" on things, have limited interests, or experience repeated motor movements like flapping or pacing ("stims"). The Survival Guide for Kids with Autism Spectrum Disorders covers all of these areas, with an emphasis on helping children gain new self-understanding and self-acceptance. Meant to be read with a parent, the book addresses questions ("What's an ASD?" "Why me?") and provides strategies for communicating, making and keeping friends, and succeeding in school. Body and brain basics highlight symptom management, exercise, diet, hygiene, relaxation, sleep, and toileting. Emphasis is placed on helping kids handle intense emotions and behaviors and get support from family and their team of helpers when needed. The book includes stories from real kids, fact boxes, helpful checklists, resources, and a glossary. Sections for parents offer more detailed information.
About the Author
Elizabeth Verdick has been writing books since 1997, the year her daughter was born. Her two children, now ages 14 and 10, are the inspiration for nearly everything she writes. In this survival guide, she writes from the perspective of a mother with a son on the spectrum and a passionate advocate for kids and parents in the autism community. She is the author of books in several Free Spirit series including Toddler Tools(TM), Best Behavior(TM), Laugh & Learn(TM), and Adding Assets for Kids. Elizabeth lives with her family and five pets near St. Paul, Minnesota.Elizabeth Reeve, M.D., contributes not only her medical knowledge, but also her experiences as a mother of a son who has autism. Her clinical work focuses primarily on children and adults with developmental disabilities, and she has worked with many community organizations providing services to this population. In addition to her research and patient care, she is involved in teaching on a daily basis, regularly speaks in the community to educate others in the field of developmental disabilities, and stays up-to-date on this ever-changing field. Her recent endeavors focus on transition issues for young adults with ASDs as they enter college and the work force. She currently works in St. Paul and lives in Minneapolis, Minnesota.
Praise For The Survival Guide for Kids with Autism Spectrum Disorders (and Their Parents)…
Just because a child has an autism spectrum disorder (ASD) does not mean that they cannot make friends, succeed in school, or foster a special talent like musicianship or athleticism. With that sentiment in mind, this book is designed to be a resource for the entire "team of helpers" rooting for every child trying to reach their full potential, including parents, teachers, friends, and support staff. The overarching tone is one of openness, making no social or physical facet of ASD taboo. Real problems are answered with real solutions shared by kids. Verdick and Reeve offer dual perspectives as both parents of autistic children and medical professionals in the field of developmental disabilities. Interesting anecdotes and cartoon illustrations are presented alongside invaluable tools such as behavior charts and body-language cheat sheets. No two children are the same, whether they have been diagnosed with ASD or not, and the authors lay a strong foundation in giving kids the ultimate skill of self-advocacy.—Booklist


Verdick and Reeve, both mothers of children with autism spectrum disorder, are direct, truthful, and effective in their delivery, and they use their own experiences to inform readers about how to deal with the vagaries of life with ASD. They open with a brief introduction first to children and then to the adults who should be reading with them. In the first section, the authors give instructive background information but they do not go into too many details, keeping the text actively moving forward. Subsequent sections offer a ton of advice: what to do at school, at home, with siblings, about eating habits, and, of course, the vitally important chapter on "poop" and "pee." Throughout the book, the authors include examples of real children with real problems and their attempts at coming up with solutions. One difference between this book and many other self-help titles is that these children do not always solve their problems; sometimes at the end of the example, they still don't like trying new foods, or they still have to work hard to make themselves try something new. The youngsters who are profiled represent multiple races and both genders. The format is colorful, with primary colors playing a large role in the layout of each page. This volume could become a treasured resource for families looking for help in successfully working through some of the problems faced by higher-functioning children with ASD. Buy two copies; one is sure to get worn out with use.– School Library Journal
"An excellent resource, and it's also a survival guide for parents!"—Mary Stefanski, parent of a son with autism
"With so many children being diagnosed with autism spectrum disorders, numerous new advice books are becoming available. This is one of the more useful ones . . . It explains in clear language strategies children can train themselves to employ to improve functioning in the neurotypical world and why these might be useful. Generally useful and easily readable . . . with lots of practical advice, especially appropriate for grade-schoolers and their caregivers."—Kirkus
Verdick and Reeve's guide manages to skillfully balance on the edge between information-heavy academic books and too-simplistic books for young children. They have produced an informative, practical guide for late elementary and middle school students that neither talks down to them nor floats above their heads. The book is meant to be read as needed, "come back to the book during times when the child is asking questions, facing changes… reaching a milestone," says the introduction to parents. The volume's layout is as important as its content, using color and font not as distractions, but to emphasize key phrases and ideas.  The layout also uses color and shapes to good effect in pointing out many experiences of other children on the Autism Syndrome Disorder Spectrum, and their individual solutions to specific problems.
Verdick is the mother of a child with ASD and an activist in the field.  Reeve is also the mother of an ASD child, and is a doctor who specializes in the field. Between the two of them, their experience leads them to emphasize the individuality of each child, while not allowing them to bury their heads in the sand, dismissing symptoms as unique quirks. From conversation to cleanliness, from making friends to fashion, this book shows concrete examples from real children's lives, provides tips for everyday use, and most of all, encourages children with ASD to work with their team of helpers (parents, teachers, doctors, friends) to take advantage of all that is out there to be happy and fulfilled.— VOYA
"Finally, a book that relates to kids on the spectrum because it incorporates actual stories from their lives in their own words! I loved the format, readability, and the content . . . [a] big thumbs up to [the] authors for tackling a tough subject and giving voice to the very group it impacts—kids with autism."—Louise Sattler, school psychologist, contributor to Education.com
Advertisement