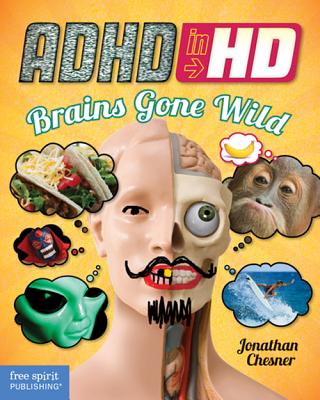 ADHD in HD: Brains Gone Wild (Paperback)
Brains Gone Wild
Free Spirit Publishing, 9781575423869, 160pp.
Publication Date: April 9, 2012
* Individual store prices may vary.
or
Not Currently Available for Direct Purchase
Description
From an early age, actor Jonathan Chesner knew he had the kind of brain that would wear a Hawaiian shirt, bright red pants, and cool painted shoes to a wedding while most other people's brains would wear three-piece suits. He also knew that if he learned how to manage the difficulties of ADHD and harness its awesome powers, he would help other special brains by sharing this knowledge in a book to slay all other books.This is that book. "ADHD in HD: Brains Gone Wild" is a kinetic collection of frank personal stories of failure and success, hilarious anecdotes, wild ideas, and point-blank advice that will resonate with teens and young adults. While most books on the topic are written to parents and educators, this is written to hold the attention of the teen and young adult ADHD reader: more than 60 short essays, interesting topics, wacky illustrations all stamped with Jonathan's irresistible humor.The book addresses the four main characteristics of ADHD: hyperactivity, impulsivity, inattention, and indecisiveness. It provides positive advice about school, family life, social life, dating, careers, medicine, and how to be like Mr. T even if you don t have a Mohawk, lots of gold chains, or huge muscles.Jonathan Chesner's "ADHD in HD" is inspiring, upbeat, and fun and gives the unique perspective that ADHD isn t all bad it can actually be a blessing in disguise.
About the Author
Jonathan Chesner started acting at age 18, and appears in national commercials, including a campaign for Jack in the Box that aired during the Super Bowl, and in television shows such as "Veronica Mars" and "Bones." At 22, he started his own clothing company, NiZ Couture, a T-shirt line for young adults sold at better surf shops and boutiques in Southern California and Japan. Jonathan s art has been shown in numerous art galleries as well as on his surf couture line. Major surf companies like Von Zipper and Future Fins have incorporated his conceptual work, and he is well-known for his unique and humorous collages. He lives in Los Angeles, California."
Praise For ADHD in HD: Brains Gone Wild…
"Jonathan Chesner is a gifted genius who has wrangled his ADHD and made it work to his advantage. Be inspired."—Shayne McIntyre, host of Fuel TV's On Surfari
"ADHD in HD is good fun advice for special and non-special brains alike, but instead of coming from some random dork, it comes from Jonathan, who's like your buddy from high school—but in the future."—Matt Powers, Formula DRIFT Pro driver, driftparty.com
A writer with ADHD shares his experiences and offers practical advice to readers who might also have brains that are wired differently.
"My name is Jonathan, and I have a special brain," says Chesner, who is quick to tell readers he is a perfectly smart person; he even attended the University of Southern California and received a degree in public policy. But he knew early on that his brain wasn't like other people's brains. He says, "I had the type of brain that would wear a Hawaiian shirt, bright red pants, and cool painted shoes to a wedding." From garish cover to hyperactive format, the design of the volume imitates the author's brain—lots of bright yellow, more than 60 short chapters on distinct topics for easy and frenetic skipping around and many photographs, drawings and speech bubbles. In the midst of the hyperactive goings-on, Chesner offers plenty of good-hearted advice on such topics as dating, homework, snacks and family life, concluding by advising readers to follow their hearts and dreams. He cautions that life isn't a fairy tale, and "most dreams don't come true," but readers will never know if they don't try.
Readers with ADHD, and anyone else for that matter, will like the "go for it" spirit of a writer who found blessings in his struggles with his "special brain." (glossary, index, about the author) (Nonfiction. 12 & up)—Kirkus
Actor, entrepreneur, and artist Chesner, who was diagnosed with ADHD at an early age, has created the kind of upbeat and informative book for those with "special brains" that he would have liked to have read as a teen. Throughout the many, mostly two-page chapters, the focus is on seven topics that pop up randomly but are easily discernible by icons, or "topic keys," placed within each of the sections, so those just interested in reading about, for instance, school can simply flip to those sections with that icon. The other topics are authority figures (parents, too!), distractions, food, the future, meds, and social life. Pocket-size, eccentrically designed, and filled with humorous black-and-white visuals (with ample yellow highlights), this will surely appeal to those who have short attention spans. With much practical advice (for example, taking "baby steps" when trying to establish eating habits), this packs in plenty of valuable content—and is pretty enjoyable, too.—Booklist
Advertisement