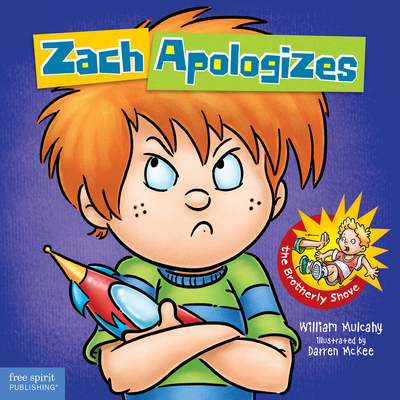 Zach Apologizes (Hardcover)
Free Spirit Publishing, 9781575423890, 32pp.
Publication Date: April 2, 2012
* Individual store prices may vary.
or
Not Currently Available for Direct Purchase
Description
When Zach shoves his little brother to the floor, he knows he did something wrong. Even so, it's hard to apologize--especially when Alex kind of deserved it Like any seven-year-old, Zach tries to ignore the problem, but finally, with his mom's help, he learns the four steps to apologizing: 1) say what you did; 2) say how it made the other person feel; 3) say what you could have done instead; 4) make it up to the person. The apology strategy is presented as the -four-square- apology, which is illustrated as a square divided into four quarters with a prompt in each. Easy to understand and easy to remember.
Zach Rules Series
Zach struggles with social issues like getting along, handling frustrations, making mistakes, and other everyday problems typical of young kids. Each book in the Zach Rules series presents a single, simple storyline involving one such problem. As each story develops, Zach and readers learn straightforward tools for coping with their struggles and building stronger relationships now and in the future.

About the Author
William Mulcahy is a licensed professional counselor, psychotherapist, and supervisor of the Cooperative Parenting Center at Family Service in Waukesha, Wisconsin. Previously he has served as a counselor at Stillwaters Cancer Support Services in Wisconsin, specializing in grief and cancer-related issues, and worked with children with special needs. Bill's short stories have appeared in serveral publications. The Zach Rules series books are his first books for children, merging his passions for good storytelling and providing counseling-like tools to help children live healthier, happier lives. Bill lives in Summit, Wisconsin, with his three sons who played their own role in the creation of the Zach Rules series. Darren McKee has illustrated books for many publishers over his twenty-year career. When not working, he spends his time riding his bike, reading, drawing, and traveling. He lives in Dallas, Texas, with his wife Debbie.
Praise For Zach Apologizes…
"Zach Apologizes is a wonderful skill-building resource to help young children easily learn how to make a sincere apology. I highly recommend it for both the home and the classroom!"—Trudy Ludwig, best-selling author of Sorry!
"Zach does rule—these books are fun! They make important life skills easy to understand and do, and kids will get such a kick out of Zach, they won't even know they're learning."—Dr. Michele Borba, parenting expert and author of No More Misbehavin' and The Big Book of Parenting Solutions
"The Zach Rules series does an impressive job covering the issues of anger and frustration—and the consequences that come with acting on them—in child-friendly terms. These books are a must-read for parents, educators, grandparents, and anyone who cares about helping young people become responsible, resilient, and compassionate human beings. I highly recommend this series."—Barbara Coloroso, best-selling author of Kids Are Worth It! Giving Your Child the Gift of Inner Discipline
"Zach's feelings are widely recognizable and will be familiar to readers. McKee's brightly colored digital illustrations . . . do a good job of supporting the text and helping to teach the material. This new series is a useful tool for teaching valuable skills."—Kirkus
Mulcahy introduces strategies to help young children develop relationship skills and learn responsibility for their actions when dealing with everyday situations. In the first book, Zach gets angry and pushes his little brother for playing with his toys. His mother sends him off to cool down and then discusses how he might handle the situation in the future. She explains the four-square apology method and together they work through the problem. Zach apologizes, and he and his brother go out to play together. In Frustrated, everything Zach tries to do goes wrong, even flying his kite. His father helps him remember the three steps to follow to deal with frustration: name it; tame it; reframe it. When Zach uses this method, he realizes that he can handle challenges in a healthy way, and then he can move on and have a better day. Both books combine facts in fictional style. Parents model compassion and understanding while explaining the strategies, which are illustrated with diagrams. Notes for adults to reinforce the concepts and practice the skills are included. Humorous cartoons also reinforce the messages and actions and reflect the mood of the stories. Both titles are suitable for classroom sharing or independent reading and should complement early childhood curriculums.—
School Library Journal
"Not only do the [Zach Rules] books discuss problems most youngsters have, they also give concrete strategies for solving them."—Growing Book by Book
"A great resource to teach kids how to apologize and we all know apologizing can be hard."—Lori Calabrese, children's book reviewer
"Reading
Zach Apologizes
reopened my eyes to how absolutely critical it is to help kids go deeper when they are making amends. The 'four-square apology' helps kids have empathy about their actions . . . this is really going to stick with them."—Books That Heal Kids blog
Advertisement