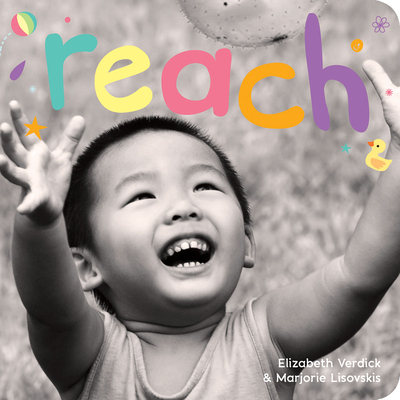 Reach (Board book)
A board book about curiosity (Happy Healthy Baby®)
Free Spirit Publishing, 9781575424248, 22pp.
Publication Date: July 24, 2013
* Individual store prices may vary.
Description
Wiggly baby on the floor. What is baby reaching for? Celebrate the many ways that babies reach out to discover and learn about the world around them. With lively rhyming text and vivid black-and-white photos of babies in action, this book is sure to engage babies and grown-ups alike. A great baby board book for floortime or anytime!
Happy Healthy Baby Series
What can baby do today? Reach . . . and move, play, eat, cuddle, and rest. The books in the Happy Healthy Baby series include appealing black-and-white photographs of babies and whimsical full-color illustrations that capture the moments and moods of baby's day. Little ones will love the photos of baby faces, and the rhythm and rhyme will hold baby's attention. Giggle, wiggle, head to toe. Tap and clap and rock and roll! Busy babies grow healthy and strong as they move about, discovering the many things they can do!

As the books are shared with them, babies absorb concepts of love, safety, and confidence. At times lively, at times gentle, these sturdy-format baby board books reflect what every parent wants: a happy, healthy baby. Includes tips for parents and care providers. A perfect gift for baby showers, newborns, and birthdays.
About the Author
Elizabeth Verdick is the author of more than 40 highly acclaimed books for children and teenagers, including books in the Toddler Tools board book series, the Best Behavior series for young children, and the Laugh & Learn™ series for preteens, including How to Take the Grrrr Out of Anger (with Marjorie Lisovskis). Her most recent titles include Calm-Down Time, The Survival Guide for Kids with Autism Spectrum Disorders (with Elizabeth Reeve, M.D.), and Bystander Power (with Phyllis Kaufman Goodstein). Elizabeth lives with her husband, daughter, son, and five pets near St. Paul, Minnesota.
Marjorie Lisovskis is the editorial director at Free Spirit Publishing and the coauthor of How to Take the Grrrr Out of Anger (with Elizabeth Verdick). She has been writing and editing books and activities for children for more than 30 years. Marjorie has two grown children and three grandchildren. She lives with her husband in Minneapolis.
Praise For Reach: A board book about curiosity (Happy Healthy Baby®)…
In this addition to the Happy Healthy Baby series, Verdick and Lisovskis home in on an early developmental milestone—the use of hands to reach, grasp, and explore. B&w photos of babies smiling and reaching are paired with bright yellow pages with cartoon images of little ones smiling, crawling, and playing, as well as a simple verse: "Hungry baby wants some more./ Reaching is what hands are for!" Seven tips for adults offer useful suggestions for interacting with babies ("Your hands can be a 'baby toy.' Demonstrate waving, clapping, and reaching") and encouraging motor skills. Simultaneously available: Eat. Up to age 2. — Publishers Weekly
"The photos are bright-eyed and buoyant . . . Both books provide easily digestible tips for parents and caregivers on healthy eating and ways to encourage reaching, grabbing, and interaction. This and its companion are pleasant additions to the Happy Healthy Baby series."—Kirkus Reviews
or
Not Currently Available for Direct Purchase