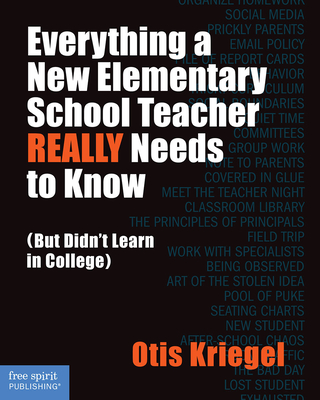 Everything a New Elementary School Teacher REALLY Needs to Know (But Didn't Learn in College) (Paperback)
(But Didn't Learn in College)
Free Spirit Publishing, 9781575424286, 224pp.
Publication Date: March 6, 2013
* Individual store prices may vary.
Description
Not your typical how-to manual for new teachers, this no-nonsense, jargon-free guide offers a wide variety of tools and tactics for getting through every school day with grace and sanity. Covered in glue, glitter, orange juice—or worse? Make a quick change into the spare set of clothes you keep on hand for just this purpose. Butterflies in your stomach before your first-ever Meet the Teacher Night? Keep your cool by writing the agenda on your board—it'll double as a crib sheet for you.

These tips and hundreds more, covering virtually every aspect of teaching, have all been learned the hard way: from real-life classroom experience. Otis Kriegel's "little black book" will be a treasured resource for teachers who want not only to survive but to thrive in any situation.
About the Author
Otis Kriegel has over 15 years of experience in community education. He has taught grades one through five in San Francisco, Los Angeles, and New York City. Otis is an adjunct faculty and student mentor at New York University and a lecturer at the Bank Street College of Education and City College of New York, where he earned an M.S.Ed. in bilingual education. He has conducted his workshop, "How to Survive Your First Years Teaching," for hundreds of student teachers and veteran educators at schools including New York University and Rutgers University, as well as for graduates from Teach for America programs. In 2008, he started the parent advice website The K5 (theK5.com).
Praise For Everything a New Elementary School Teacher REALLY Needs to Know (But Didn't Learn in College): (But Didn't Learn in College)…
"Good advice for novice and veteran teachers alike. Whether readers take in the guide from cover to cover or dip in as needed (which will be often), they will leave with a greater sense of confidence." —ForeWord Reviews
"In a straightforward, friendly tone, Kriegel details all the things a teacher needs to know to keep those plates spinning . . . This book is one to keep on the resource shelf for new teachers, mentor teachers, as well as experienced teachers looking for new solutions for common classroom issues." —TeacherWriter.net 
"Otis Kriegel is the teacher every parent wants their child to have. For those who care about improving the quality of our schools you simply have to hope that elementary teachers and parents will buy and read this book." —Bob Kerrey, president emeritus, The New School
"When I first started teaching, I didn't even know what I didn't know. I was taking attendance by calling out kids' names, I didn't use a seating chart, and I couldn't figure out why it felt like my students were running the class. How I wish I'd had Otis Kriegel's book back then! This is an indispensable guide for any teacher, whether they're just starting out or looking for straight-up, sensible advice on how to improve their classroom and their practice." —Dan Moulthrop, former teacher and coauthor, with Dave Eggers and Ninive Calegari, of Teachers Have It Easy: The Big Sacrifices and Small Salaries of America's Teachers
"Challenging many of the night frights that haunt newcomers to the teaching profession, Everything a New Elementary School Teacher REALLY Needs to Know offers sweeping and practical guidance to the novice teacher. Through engaging anecdote and lucid reflection, Kriegel draws on his own professional journey in making a vital contribution to the field of teacher education." —Michael Grady, Ed.D., Deputy Director and Clinical Assistant Professor, Annenberg Institute for School Reform at Brown University
"Drawing upon his own years of teaching and reflections on what it means to teach well, Kriegel offers readers a practical, personable road map for how they can become better teachers." —Brad Olsen, associate professor of education, University of California, Santa Cruz, and author of Teaching What They Learn, Learning What They Live: How Teachers' Personal Histories Shape Their Professional Development
"Otis Kriegel is the hurricane of fresh air that elementary teacher education needs today." —Joseph Patrick Rafter, Ph.D, clinical assistant professor, Steinhardt School of Culture, Education, and Human Development, New York University
"The tone of the book is warm and inviting, and the reader often feels like he or she is just having a conversation with a veteran teacher over coffee."—Teachers College Record 
or
Not Currently Available for Direct Purchase