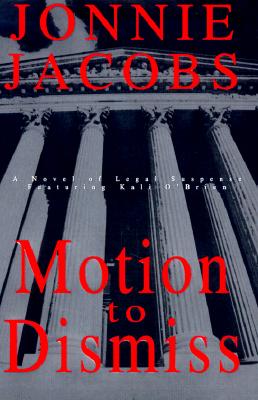 Motion to Dismiss (Hardcover)
Kensington Publishing Corporation, 9781575663951, 307pp.
Publication Date: March 1, 1999
* Individual store prices may vary.
or
Not Currently Available for Direct Purchase
Description
Combining an insider's knowledge of the justice system with a talent for powerhouse storytelling, Jonnie Jacobs joins the elite ranks of Nancy Taylor Rosenberg and Lisa Scottoline with MOTION TO DISMISS. In this explosive new legal thriller Jacobs takes readers into the intricate world of law and order as a female attorney takes point-blank aim at the dark heart of a shocking sex crime, and the even darker forces behind it...
Scrupulous San Francisco defense attorney Kali O'Brien knows how to play the odds in a system where reality can be shaded. Despite a passion for justice that doesn't allow for compromise, her newest case is casting doubt on the one principle she cherishes most: the absolute dead certainty that her client is telling the truth.
Grady Barrett, a wealthy computer magnate married to Kali's best friend, has been arraigned in the rape of Deirdre Nichols, a Bay Area single mother. A man accustomed to big money, the power it yields, and the freedom it buys, Barrett is about to discover its limits. Even if the sex was consensual, that doesn't acquit him, in Kali's eyes, of an indiscretion that has shattered his marriage, and further eroded his dubious reputation as a man of principle. Especially in the shadow of Deirdre's vivid, emotional, and thoroughly convincing deposition -- damning testimony that Barrett maintains is a clever and manipulative web of lies spun to trap him.
Despite his pleas of innocence, Kali's instinct tells her that Barrett may be as guilty as sin. Then Deirdre plunges to her death from a second-story balcony. A tragic accident? Or cold-blooded murder? The clues point to Grady. And so does the eyewitness.
Now, bound to a client she is afraid totrust, Kali finds herself straddling the razor-sharp line between crime and punishment. It isn't long before she finds her own life in jeopardy as a veil of lies is lifted, and the pasts of everyone from victim to victimizer, from illicit lover to faithless friend, unfold with their own provocative surprises. No one can be presumed innocent.
From its opening pages, to its shattering revelations and its stunning final verdict, MOTION TO DISMISS is an exhilarating, unpredictable thriller that gives irrefutable witness to Jonnie Jacobs' masterful storytelling powers.

Advertisement