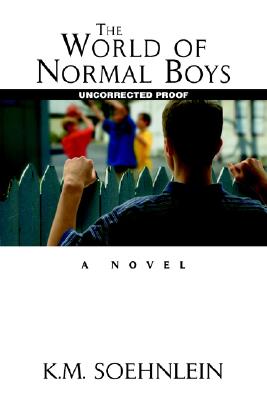 The World of Normal Boys
Hardcover

* Individual store prices may vary.
Other Editions of This Title:
Paperback (5/31/2016)
Paperback (8/1/2001)
Description
With "The World of Normal Boys," K. M. Soehnlein captures the spirit of a generation and an era, embodied in the haunting, unstoppable voice of thirteen-year-old Robin MacKenzie, a modern-day Holden Caulfield whose struggle for a place in the world is as ferocious as it is real.
The time is the late 1970s -- an age of gas shortages, head shops, and Saturday Night Fever. The place, suburban New Jersey. At a time when the teenagers around him are coming of age, Robin MacKenzie is coming undone. While "normal boys" are into cars, sports and bullying their classmates, Robin enjoys day trips to New York City with his elegant mother, spinning fantastic tales for her amusement. He dutifully plays the role of the good son for his meat-and-potatoes father, even as his own mind is a jumble of sexual confusion and painful self-doubt. But everything changes in one, horrifying instant, when a tragic accident awakens his family from their middle-American dream and plunges them into a spiral of slow destruction.
As his family falls apart day by day, Robin finds himself pulling away from the unquestioned, unexamined life that has been carefully laid out for him. Small acts of rebellion lead to larger questions of what it means to stand on his own. Falling into a fevered triangle with two other outcasts, Robin embarks on an explosive odyssey of sexual self-discovery that will take him beyond the green lawns of suburbia, beyond the fraying fabric barely holding together his quickly unraveling family, and into a complex future, beyond the world of normal boys.

Kensington, 9781575665955, 292pp.
Publication Date: August 1, 2000
or
Not Currently Available for Direct Purchase