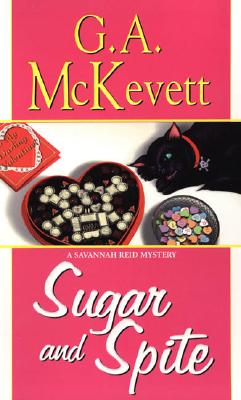 Sugar and Spite (Mass Market Paperbound)
Kensington Publishing Corporation, 9781575666372, 277pp.
Publication Date: January 1, 2001
Other Editions of This Title:
MP3 CD (5/3/2016)
* Individual store prices may vary.
Description
Savannah Reid, the "full-figured" private detective who has wowed critics and readers alike in G.A. McKevett's acclaimed mysteries, is back with a vengeance. This time out, the former Dixie belle with the take-no-prisoners attitude is turning her voracious appetite toward a case that hits very close to the heart.
When Savannah Reid's only shot at romance for Valentine's Day includes a stakeout with her ex-partner, Dirk Coulter, things aren't exactly looking up in the hearts-and-flowers department. After pulling an all-nighter, Savannah wants nothing more than to cook up a plate of steamy grits and hash browns. But no sooner has she buttered the skillet when disaster arrives in the overdone, underdressed form of Polly Coulter, Dirk's ex-wife.
Days later, the no-good, two-timing broad is found lying in a pool of blood in Dirk's doublewide trailer, shot through the chest with his service revolver. When Dirk is arrested for Polly's murder, Savannah goes to work to clear his name, and every lead points to trouble. All in all, this is one Valentine's Day that's shaping up to be a real massacre...