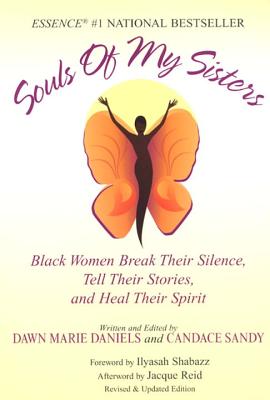 Souls of My Sisters
Black Women Break Their Silence, Tell Their Stories and Heal Their Spirits
Paperback

* Individual store prices may vary.
Description
"If you can't reach a girlfriend to pour out your heart read
Souls of My Sisters... Souls
is just the thing when you need an extra boost." --
Heart and Soul
Magazine 
Sisters Share Their Experience.  .  .And Their Strength
In this revised edition, black women from all walks of life candidly reveal how they overcame challenges just like the ones you're facing now. From Patti Labelle, Terrie M. Williams, LisaRaye McCoy, and Mary J. Blige to single moms and spiritual leaders, these diverse females have bonded together in print, for the first time, to discuss the issues that have touched their lives. You'll find a few new stories and learn what has happened to some of these Soul Sisters in this revised edition. 
Their powerful, provocative, and ultimately uplifting stories relate with raw honesty the experiences only their sisters can truly understand, from abortion, AIDS and date rape to love, sex, racism, and money. Your sisters have been in your shoes. With their help, and your own inner strength of faith, you'll soon be taking the first precious steps toward healing from within--and liberating the magnificent woman you always dreamed of becoming. 
"Provides an opportunity for us to stop apologizing for what we have no control over and control what we can." --Debra Fraser-Howze, President/CEO of the National Black Leadership Commission on AIDS 
Dawn Marie Daniels brings a spirited array of professional credentials to her role as Editor of Souls of My Sisters. She was the editorial force behind a number of award-winning authors, and has utilized her position and power as one of the book industry's premier editors to ensure that African American projects get the attention they deserve. Daniels has established a commanding presence in adult nonfiction with such books as In the Meantime and One Day My Soul Just Opened Up, both New York Times bestsellers by Iyanla Vanzant. She utilized her eight years of publishing experience to bring new talent to the surface and helped push them to the forefront of the publishing industry. Daniels' authors have been published through various imprints such as Prentice Hall Press, Fireside, Touchstone, S&S Aguilar, Scribner Paperback fiction, Simon & Schuster Trade, and Pocket Books.   
Candace Sandy is the President of Candace Sandy Communications a multi media cooperative targeting women. For ten years, Candace Sandy has also served as the Communications Director for Congressman Gregory W. Meeks (D-NY) of the Sixth Congressional District, a member of the House Foreign Service and Financial Services Committees. In her capacity as Communications Director, Sandy has managed both national and international media campaigns in countries that have included Africa, Canada, Caribbean, China, Colombia, Cuba, Great Britain, India, Israel, Malaysia, Peru, and Venezuela. A frequent lecturer, who has served on several high-profile political campaigns, Sandy has worked tirelessly on behalf of women's issues including poverty, domestic violence, youth prostitution, anti crime, financial literacy, and reentry in New York City. Sandy is the former General Manager of New York University Radio Station WNYU 89.1 FM.  As a former Radio Advertising Bureau Mercury AD/LAB Fellow, Sandy has covered such events as the 1993 and 1997 Presidential Inaugurations and the1996 Summer Olympics. She has also conducted several celebrity radio interviews, including Pam Grier, Stevie Wonder, and Will Smith.
Kensington, 9781575666532, 432pp.
Publication Date: October 1, 2000
About the Author
Dawn Marie Daniels was an editor for eight years at Simon & Schuster, where she worked on adult nonfiction such as Iyanla Vanzant's
New York Times
bestsellers
In the Meantime
and
One Day My Soul Just Opened Up
.
Candace Sandy serves as the Communications Director for Congressman Gregory Meeks (D-NY). She was recently awarded the prestigious 40 Under 40 award for her civic and professional work for NBC. Dawn and Candace have also been honored with the 2002 Amazing Woman Award for their literary efforts.
or
Not Currently Available for Direct Purchase