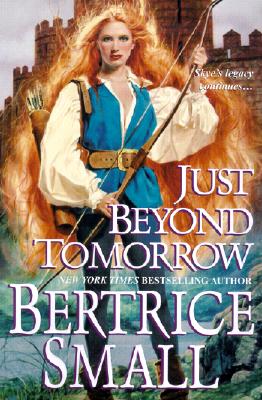 Just Beyond Tomorrow (Paperback)
Kensington, 9781575667379, 329pp.
Publication Date: February 2, 2002
* Individual store prices may vary.
Description
Capturing the hearts and imaginations of millions worldwide, Bertrice Small's novels always deliver the lush sensuality her readers expect. In "Just Beyond Tomorrow, " Jasmine's strong-willed son, Patrick Leslie, continues Skye's Legacy when he takes a wife who wants no husband. . .
Just Beyond Tomorrow
With his father dead and his mother in France, Patrick Leslie, Duke of Glenkirk, discovers the obligations of the estate and its people are now his alone. But during a day of hunting, a chance meeting ensures that he will not be alone much longer, for to obtain the deserted castle and lands adjoining his, Patrick must agree to take something else, as well--a bride.
Flanna Brodie, heiress to Brae, is as vibrant and beautiful as the Scottish countryside, and just as wild. She wants no man--only her freedom. But the passions Patrick awakens in her run deeper than those of the flesh. The independent Flanna is determined to champion the royal Stuarts' cause, and restore Charles II to his throne despite her husband's objections. Patrick knows the dangers of such political intrigues; that the Stuarts have always brought misfortune to the Leslies of Glenkirk, and that a roguish king will ask far more of the naive duchess than a simple vow of fealty--forcing Patrick and Flanna to choose between the threat of wounded pride, and the promise of a lasting love both secretly yearn for. . .
About the Author
Bertrice Smallhas written thirty novels of historical romance and two erotic novellas. She is a "New York Times" bestselling author and the recipient of numerous awards. In keeping with her profession, Bertrice Small lives in the oldest English-speaking town in the state of New York, founded in 1640. Her light-filled studio includes the paintings of her favorite cover artist, Elaine Duillo, and a large library but no computer as she works on an IBM Quietwriter 7. Her longtime assistant, Judy Walker, types the final draft. Because she believes in happy endings, Bertrice Small has been married to the same man, her hero, George, for thirty-eight years. They have a son, Thomas, a daughter-in-law, Megan, and two adorable grandchildren, Chandler David and Cora Alexandra. Longtime readers will be happy to know that Nicki the Cockatiel flourishes along with his fellow housemates, Pookie, the long-haired greige and white, Honeybun, the petite orange lady cat with the cream-colored paws, and Finnegan, the black long-haired baby of the family, who is almost two."
or
Not Currently Available for Direct Purchase