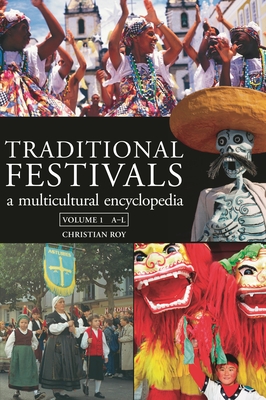 The Traditional Festivals (Hardcover)
An Multicultural Encyclopedia: Volume 1 & 2
ABC-CLIO, 9781576070895, 400pp.
Publication Date: June 29, 2005
* Individual store prices may vary.
Description
Traditional Festivals: A Multicultural Encyclopedia travels around the world and across the centuries to uncover an often unexpected richness of meaning in some of the major sacred festivals of the world's religions, the hallowed calendars of ancient civilizations, and the seasonal celebrations of tribal cultures.
From Akitu to Yom Kippur, its 150+ entries look at the content and context of these festivals from a number of perspectives (including those relating to theology, anthropology, folklore, and social theory), tracing their historical development and variations across cultures. Readers will get a vivid sense of what each festival means to the people celebrating it; how each captures its culture's beliefs, hopes and fears, founding myths, and redemptive visions; and how each expresses the universal need of humans to connect their lives to a timeless spiritual dimension.
About the Author
Christian Roy, PhD, is a historian and a freelance translator and researcher. He is currently a member of the International Troeltsch-Tillich Project, preparing French editions of these two German theologians' works, based at Laval University, Quebec City, Quebec.
or
Not Currently Available for Direct Purchase