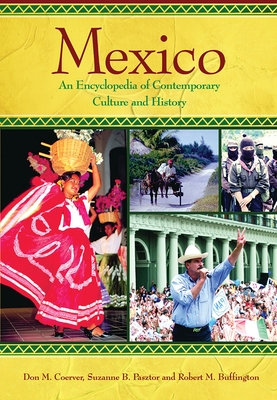 Mexico
An Encyclopedia of Contemporary Culture and History
Hardcover

* Individual store prices may vary.
Description
From NAFTA to narcotics, from immigration to energy, the ties that bind our nation and Mexico are varied and strong. Mexico uncovers the real Mexico that lies behind the stereotypes of tacos, tequila, and tourist hotels. Compiled by leading scholars of Mexican history and society, its more than 150 entries examine the nation in all its fascinating contradictions and complexity. This concise yet thorough study, covering the last 100 years of Mexican history, is the only one volume, A-Z reference work available to students, scholars, and readers curious about one of the world's most diverse and dynamic societies.
What was the Mexican Revolution all about? Who are the Zapatistas? And why do Mexicans celebrate Cinco de Mayo? Mexicans are America's largest immigrant group and Mexico is America's favorite tourist destination. Yet we need to learn more and understand better our fascinating neighbor to the south. Mexico--comprehensive and accessible--is the best place to start.
ABC-CLIO, 9781576071328, 621pp.
Publication Date: September 22, 2004
About the Author
Don M. Coerver, PhD, is professor of history at Texas Christian University, Fort Worth, TX.Suzanne B. Pasztor, PhD, is associate professor of history and international studies at the University of the Pacific, Stockton, CA, specializing in Mexican history.Robert M. Buffington, PhD, is associate professor of history at Bowling Green State University, Bowling Green, OH.