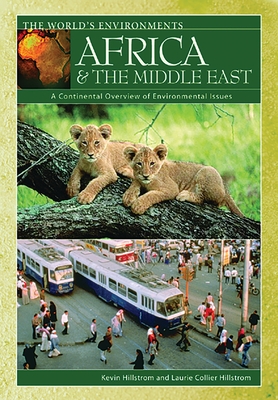 Africa & the Middle East (Hardcover)
A Continental Overview of Environmental Issues (World's Environments)
ABC-CLIO, 9781576076927, 277pp.
Publication Date: November 17, 2003
* Individual store prices may vary.
Description
Examining both the rich biological heritage of the world's second largest continent and the very serious human threats to it, Africa and the Middle East explores the impact global pollution and a burgeoning population are having on landscape and wildlife alike. How is global warming responsible for the rapidly expanding Sahara Desert? Can local populations be recruited to preserve threatened species?
Over 80 percent of Madagascar's species are endemic, the highest percentage of any major ecological region in the world, such as the highly endangered aye-aye which resembles a cross between a monkey, a bat, and a woodpecker, and the giraffe-necked weevil, a red rainforest insect with a neck like a fire truck rescue ladder. Readers will learn all about these fascinating species and much more.
About the Author
Kevin Hillstrom and Laurie Collier Hillstrom are professional writers. Their published works include all six volumes in ABC-CLIO's World Environments series.