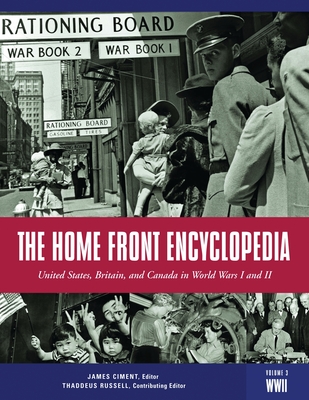 The Home Front Encyclopedia [3 Volumes] (Hardcover)
United States, Britain, and Canada in World Wars I and II
ABC-CLIO, 9781576078495, 1478pp.
Publication Date: December 1, 2006
* Individual store prices may vary.
Description
The Home Front Encyclopedia: United States, Britain, and Canada in World Wars I and II is the first scholarly work devoted exclusively to the utter transformation of American, Canadian, and British societies in those pivotal years. Other works have looked at developments in wartime life--government agencies, economic mobilization--but this encyclopedia is the first to focus on how the wars permeated every aspect of life. Coverage includes such fundamental issues as shifting sexual mores, era-defining musical genres (jazz in World War I, swing in World War II), and the exploding popularity of baseball, boxing, comics, movies, and radio. It also encompasses the decidedly unheroic moments of the times (racial violence, censorship, labor conflicts).
The Home Front Encyclopedia is a uniquely insightful, culturally attuned volume where Bernard Baruch, Jane Addams, Henry Stimson, and Gunnar Myrdal share space with Charlie Chaplin, Billy Sunday, Joe Louis, Vera Lynn, and Kate Smith. At last, these seminal aspects of the most momentous events of the 20th century get the definitive reference they deserve.
About the Author
James Ciment is an independent scholar in Los Angeles, CA.
or
Not Currently Available for Direct Purchase