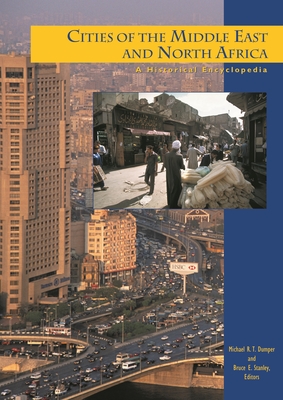 Cities of the Middle East and North Africa
A Historical Encyclopedia
Hardcover

* Individual store prices may vary.
Description
Cities of the Middle East and North Africa: A Historical Encyclopedia is a comprehensive reference work on major ancient and modern cities in the Middle East and North Africa from their beginnings to today. In an unprecedented work of historical research, renowned experts Bruce Stanley and Michael Dumper provide 5,000 years of authoritative historical coverage as they trace the full trajectory of each city, discuss ties to other cities, and present a comparative analysis of the region through the lens of its cities.
The A-Z entries feature extensive information about each city's location, geography, demographics, climate and environmental issues, ancient and classical history, Islamic history, post-1800 C.E. history, architecture, religious significance, cultural issues, society, municipal features, economic issues, and contemporary trends. Introductory essays explore urban general history and historiography, urban planning and modernization, poverty, interaction between cities, social welfare, culture, identity issues, and the place of these cities within the world economy.
ABC-CLIO, 9781576079195, 439pp.
Publication Date: November 1, 2006
About the Author
Michael R. T. Dumper is reader in Middle East politics at the University of Exeter, Exeter, UK, specializing in urbanism and religious institutions of the Middle East.Bruce E. Stanley is provost at Huron University in London and a research fellow in the Department of Politics at the University of Exeter, Exeter, UK, specializing in Middle East political economy and urbanization.