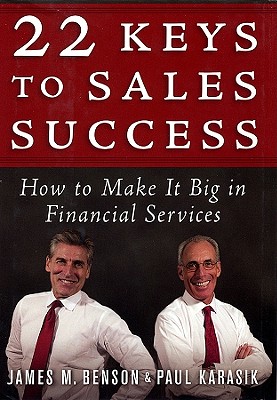 22 Keys to Sales Success (Hardcover)
How to Make It Big in Financial Services (Bloomberg #40)
Bloomberg Press, 9781576601495, 203pp.
Publication Date: April 1, 2004
* Individual store prices may vary.
Description
In the past few years, the financial industry has undergone dynamic structural changes that have deeply affected the sales process. Bruised by market volatility, today's consumer is skeptical and demands more for less. A business needs fresh approaches to sell in today's tough marketplace.
Here are the 22 Keys that can help any financial professional make more money, work less, and maximize his potential. Industry leaders James Benson and Paul Karasik combine their personal experience with the shared wisdom of the masters. Each key contains proven, actionable sales guidelines, including:
The four primary fears that could destroy a sale--and how to help prospects overcome them
The nine most effective strategic approaches to "target marketing" success
Five guidelines for qualifying prospects more effectively
Sixty-five ways to snap a sales slump
Ten ways to get clients to say yes
Four simple steps to generate new business with current clients
Five guidelines for overcoming objections
Six sample scripts to make closing ratios soar
Whether a company has been in business for years or is just beginning, each key will unlock a new door on the path to sales success.
About the Author
James M. Benson is president and chief executive officer of John Hancock Life Insurance Company, a division of Manulife Financial Corporation. Overseeing insurance and annuity sales, marketing, and distribution operations, he is responsible for all of the company's distribution channels. Prior to joining Hancock, he was president of MetLife's Individual Business unit and was also chairman and chief executive officer of New England Financial, as well as chairman, president, and chief executive officer of GenAmerica Financial Corporation. Before joining New England Financial and MetLife, Jim held the dual position of president and chief operating officer of Equitable Companies, Inc. and was chief executive officer of its flagship life insurance operation, Equitable Life Assurance Society. From 1968 to 1984, he held a variety of positions in sales, marketing, and product development with Pacific Mutual Life Insurance Company. Paul Karasik is the president of The Business Institute, a sales and management training and consulting company. He has devoted eighteen years to helping America's financial industry professionals achieve their goals. Paul is the author of six business classics, including Sweet Persuasion, How to Make It Big in the Seminar Business, and Seminar Selling: The Ultimate Resource Guide for Marketing Financial Services. He is the founder of the American Seminar Leaders Association and a popular presenter at professional conferences and seminars throughout North America.