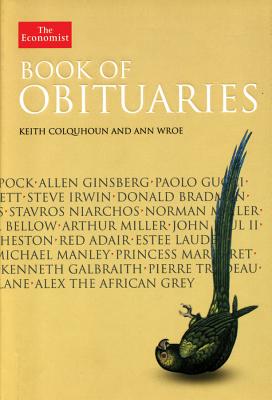 Economist Book of Obituaries (Hardcover)
Bloomberg Press, 9781576603260, 409pp.
Publication Date: November 1, 2008
* Individual store prices may vary.
Description
This collection of obituaries tells the life stories of two hundred of the world's most captivating people as judged by writers Ann Wroe and Keith Colquhoun and as published in
The Economist
from 1994 to 2008.
Each stylishly written story and accompanying photograph surprises, entertains, and stimulates. The titled, wealthy, and powerful are here, of course, including Diana, Princess of Wales, Gerald Ford, Bob Hope, John Paul II, Norman Mailer, Mstislav Rostropovich, and General William Westmoreland, but so are others: a cookery teacher and spy, the inventor of instant noodles, a self-proclaimed gypsy king, a musical psychic, an American gangster, a patriotic crook, a philosopher of consumerism, a master of tabloid journalism, a protector of minorities, a veteran of Gallipoli, the greatest of second bananas, and so on.
This book is as entertaining as it is edifying; it's a great gift for biography, history, and popular-culture fans, as well as for everyone who turns first to the obituary pages in the daily newspaper. As Clarence Darrow (1857-1938) put it: "I never killed a man, but I have read many obituaries with a lot of pleasure."
About the Author
Keith Colquhoun worked for The Economist for many years before he became its obituaries editor, a role he performed for some eight years. He is also the author of more than ten novels, including Killing Stalin, Filthy Rich, and, most recently, Beyond Reason. Ann Wroe is obituaries and briefings editor of The Economist, having previously been books and arts editor, and American editor. She is also the author of several highly acclaimed biographies, including Pontius Pilate, The Perfect Prince, and, most recently, Being Shelley.
or
Not Currently Available for Direct Purchase