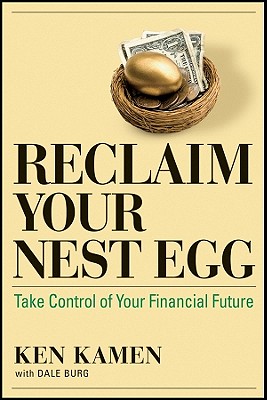 Reclaim Your Nest Egg: Take Control of Your Financial Future (Hardcover)
Take Control of Your Financial Future
Bloomberg Press, 9781576603703, 214pp.
Publication Date: September 28, 2010
* Individual store prices may vary.
or
Not Currently Available for Direct Purchase
Description
Expert advice for changing how you think about money in order to rebuild and protect your retirement assets.
Investors who suffered tremendous losses in the market meltdown of 2008 want to know how to protect themselves from being so vulnerable in the future. In Reclaim Your Nest Egg: Take Control of Your Financial Future, Ken Kamen shows investors how they gave up control of their finances and how they can get it back again. Kamen explains:
How to recognize the psychological pitfalls, the distracting -noise- from the media and the internet, and the bad financial advice that derailed your planning.
How to develop a set of investment principles that can serve as your personal Commandments and keep you on course.
How to adopt an investment approach that maximizes the potential for growth while reducing risk, and how to implement it without being confused or overwhelmed.
Reclaim Your Nest Egg helps readers find a customized investment strategy that suits their budget and temperament and gives them their best chance of meeting their retirement goals.
About the Author
Ken Kamen is the president of Mercadien Asset Management, which offers comprehensive wealth management consulting services to individuals, families, and business owners. A former chairman of the National Investment Banking Association, Ken also chaired a special business advisory group that reported to the U.S. House of Representatives. His thirty years of experience in the financial services industry and his ability to explain complex concepts in an easily accessible way make him an oft-quoted source for national publications such as the Wall Street Journal, USA Today, Fortune, Forbes, and BusinessWeek, and for Reuters and the Associated Press. He is also a frequent guest on national and local broadcasts that include CNBC, NBC, ABC, Fox, and PBS.
Advertisement