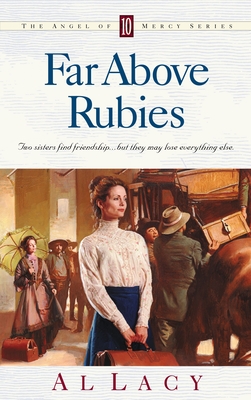 Far Above Rubies (Paperback)
Multnomah Books, 9781576734995, 336pp.
Publication Date: January 10, 2000
Description
Continuing the adventures of Old West heroine Breanna Baylor Brockman, Book Ten of the popular Angel of Mercy series incorporates several well-known historical 1860s outlaws. When eighteen-year-old Ginny Grayson moves to Missouri, she falls in love with hardware drummer Wesley Logan. But Logan's gambling debts force him to join the infamous James-Younger gang, and Ginny willingly enters the fray! When her old friend Dottie and Dottie's sister Breanna enter the picture, Ginny realizes that she wants out of the gang. But is it too late for a new start...as a woman whose worth is far above rubies?
About the Author
Al Lacy has written more than ninety novels, including the Angel of Mercy, Battles of Destiny, and Journeys of the Stranger series. He and his wife, JoAnna Lacy, are coauthors of the Mail Order Bride, Hannah of Fort Bridger, and Shadow of Liberty series. The Lacys make their home in the Colorado Rockies.
Advertisement