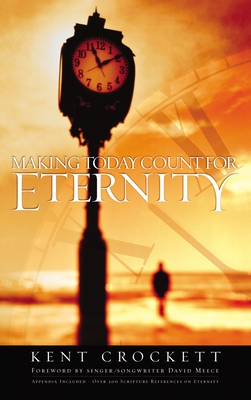 Making Today Count for Eternity (Paperback)
Multnomah Books, 9781576737408, 208pp.
Publication Date: June 6, 2001
Description
In an age when more and more people are concluding that life is pointless, Pastor Kent Crockett proclaims that -- in fact -- how we live our lives today is critically important for all time. Making Today Count for Eternity shows readers that choices we make every day on earth will affect what we'll be doing for all eternity. First, says Crockett, we're here to learn the basics of eternity -- through study of the Scriptures and fellowship with God and His people. Ultimately, God will examine our post-salvation labors to determine our eternal rank and rewards. Readers will never be the same once they see how -- by changing our lives now -- we can alter our assignments in heaven forever. Fresh, insightful, biblical!
About the Author
Kent Crockett is the author of the bestselling The 911 Handbook. He is agraduate of Texas A&M University and Southwestern Baptist Theological Seminary, and is the senior pastor of Cornerstone Church in Garden City, Kansas, where he lives with his wife, Cindy. They have two children, Hannah and Scott.
Advertisement