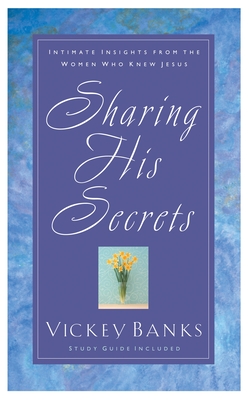 Sharing His Secrets: Intimate Insights from the Women Who Knew Jesus (Paperback)
Intimate Insights from the Women Who Knew Jesus
Waterbrook Press, 9781576738931, 208pp.
Publication Date: January 1, 2001
Description
Popular author, Bible study leader, and women's speaker Vickey Banks leads readers on a search for secrets to experiencing life-changing intimacy with God. This thought-provoking, scripturally sound read takes a fresh look at Jesus' face-to-face encounters with women when He walked this earth, asking, "What can their experiences tell us today about walking and talking with God? Do they know secrets to getting more up close and personal with Him?" In an accurate, yet warm and relational style, Banks reveals what still causes tears to trickle down God's cheeks, moves His heart to compassion, prompts Him to defend and forgive, and makes Him feel loved and enjoyed -- inspiring deeper intimacy with God today.
About the Author
Vickey Banks is a popular conference speaker and the author of Sharing His Secrets: Intimate Insights from the Women Who Knew Jesus and Love Letters to My Baby. Her work has appeared in a dozen compilation books, including Multnomah's Stories for a Woman's Heart and Stories for a Man's Heart. She publishes a monthly online newsletter, One Woman's Heart, and is an avid journaler. Vickey lives with her husband Brian and their two children in Oklahoma.
Advertisement