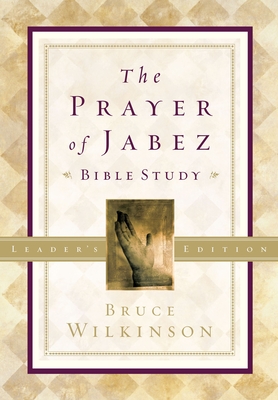 The Prayer of Jabez Bible Study Leader's Edition: Breaking Through to the Blessed Life (Paperback)
Breaking Through to the Blessed Life
Waterbrook Press, 9781576739808, 80pp.
Publication Date: July 13, 2001
Description
Readers of Dr. Bruce Wilkinson's powerful bestseller, The Prayer of Jabez, learned how an audacious, four-part prayer could release God's miraculous power in their lives. Now The Prayer of Jabez Bible Study, Leader's Edition, reveals how to make praying the Jabez prayer a lifetime habit. Leaders will broaden their understanding of the four components of the Jabez prayer ("bless me; enlarge my borders; keep Your hand upon me; keep me from evil"). Graphics and lighthearted illustrations make this innovative, four-week study impactful and fun. The eighty-page Leader's Edition offers two additional, optional sessions and resources for group leadership.
About the Author
Bruce Wilkinson is the founder of Walk Thru the Bible Ministries and Walk Thru the Bible International. He is the author of the New York Times bestsellers The Prayer of Jabez and Secrets of the Vine as well as 30 Days to Experiencing Spiritual Breakthroughs and numerous other books. Bruce and his wife, Darlene, live in Atlanta, Georgia, and have three children.
Advertisement