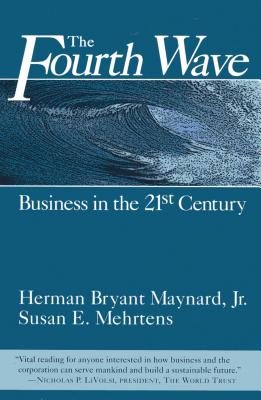 The Fourth Wave (Paperback)
Business in the 21st Century
Berrett-Koehler Publishers, 9781576750025, 240pp.
Publication Date: July 1, 1996
* Individual store prices may vary.
Description
Applying the concept of historical waves originally propounded by Alvin Toffler in The Third Wave, Herman Maynard and Susan Mehrtens look toward the next century and foresee a "fourth wave," an era of integration and responsibility far beyond Toffler's revolutionary description of third-wave postindustrial society. Whether we attain this stage of global well-being, however, will depend on how well our business institutions adapt and change.
The Fourth Wave examines the ways business has changed in the second and third waves and must continue to change in the fourth. The changes concern the basics-how an institution is organized, how it defines wealth, how it relates to surrounding communities, how it responds to environmental needs, and how it takes part in the political process.
Maynard and Mehrtens foresee a radically different future in which business principles, concern for the environment, personal integrity, and spiritual values are integrated. The authors also demonstrate the need for a new kind of leadership-managers and CEOs who embrace an attitude of global stewardship; who define their assets as ideas, information, creativity, and vision; and who strive for seamless boundaries between work and private lives for all employees.
About the Author
HERMAN BRYANT MAYNARD, JR., is an international consultant on personal and organizational transformation and a licensed Master for delivery of "Avatar" (Star's Edge International), a course designed to assist individuals in taking conscious command of their lives.
His specialties include business turnarounds and transformation of business cultures. Now a member of the growing international network of businesspersons and consultants who are pioneering a new business paradigm, Maynard serves on the board of directors for the World Business Academy, the World Trust, and the International Center for Organizational Design. He has been co-chairman of the National Learning Foundation and a guest speaker at the Stanford Business School, and he spent twenty-two years with Du Pont, holding a number of professional and managerial positions in manufacturing, research, marketing, sales, product management, new business develop- ment, and administration.
SUSAN E. MEHRTENS is president of The Potlatch Group Inc., a research organization specializing in the analysis of business trends related to global evolution and social change. Since establishing the business in 1987, she has undertaken a wide variety of research projects for clients that range from the Fortune 500 (AT&T, Du Pont, General Motors, Sears) to smaller businesses, schools, and private foundations, such as the Institute of Noetic Sciences, World Business Academy, International Management Institute, Saybrook Institute, and Schweisfurth Foundation.
After receiving her Ph.D. from Yale University, Mehrtens taught at Queens College, City University of New York, and the College of the Atlantic in Bar Harbor, Maine, in the fields of environmental studies, marine studies, medieval studies, his- tory, Latin, and Greek.