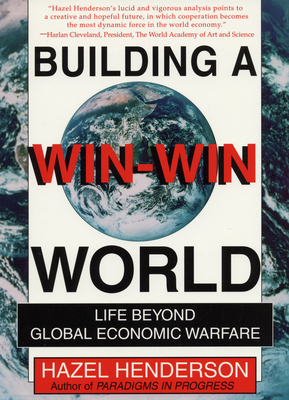 Building a Win-Win World
Life Beyond Global Economic Warfare
Paperback

* Individual store prices may vary.
Description
In Building a Win-Win World , world-renowned futurist Hazel Henderson extends her twenty-five years of work in economics to examine the havoc the current economic system is creating at the global level. Markets are now spreading worldwide-a spread which is often equated with the hope of democracy spreading along with it. But markets still run on old textbook models that ignore social and environmental costs-leading to a new kind of warfare: global economic warfare.
Building a Win-Win World demonstrates how the global economy is unsustainable because of its negative effects on employees, families, communities, and the ecosystem. Henderson shows that win-win strategies can become the norm at every level when people see the true current and future costs of short-sighted, narrow economic policies.
Henderson shows how humans are encountering the endgames of the competition/conflict paradigm, and identifies the signs of transition. Using warfare as a metaphor for the dark side of today's world economic system, she shows how both are destructive, inhumane, wasteful, irrational, inefficient, competitive, and crisis-driven. Both create more new problems than they solve. She describes how the globalization of the war system, technology, and industrialization brought the Cold War to a dead end. By the mid-1980s the global warfare paradigm had given ground to a global economic warfare which many economists, politicians, and business leaders hailed as a victory of capitalism and competitive "free markets." Yet this new type of warfare proved little better than the military warfare it was advertised to replace. By the mid-1990s global economic warfare had already reached crisis points of its own.
Building a Win-Win World examines how jobs, education, health care, human rights, democratic participation, socially responsible business, and environmental protection are all sacrificed to "global competitiveness." Henderson shows many ways out of the dilemmas faced by all countries. New agreements are described to tame the global economic casino, regulate multi-national corporations, and levy fees for commercial use of global common resources-oceans, atmosphere, space, etc.-and tax their abuse. These revenues can then be invested in civilian needs and sectors worldwide. She also describes a trend toward "grassroots globalism"-citizens movements that are addressing poverty, social inequities, pollution, resource-depletion, violence, and wars. Grassroots globalism, she says, is about thinking and acting-globally and locally. It is pragmatic problem-solving, implementing local solutions that keep the planet in mind. Such social innovations can raise the ethical floor under the global playing field so that the most ethical companies and countries can win.
Praise For Building a Win-Win World: Life Beyond Global Economic Warfare…
"Hazel Henderson's lucid and vigorous analysis points to a creative and hopeful future, in which cooperation becomes the most dynamic force in the world economy."
—Harlan Cleveland, President, The World Academy of Art and Science

"At a time when conventional economics is tottering into senility, a handful of thinkers are forging imaginative alternatives. Hazel Henderson is among the most eloquent, original—and readable—of the econo-clasts."
—Alvin and Heidi Toffler, authors of The Third Wave

"For 25 years, Hazel Henderson has been opening the doors and windows of the stifling incense-filled cathedrals of orthodox economics, letting in fresh air and light from the real world. If the priests of received doctrine would stop canting their liturgy to each other long enough to read this book, it would indeed be a 'win-win' move for all of us."
—Herman E. Daly, coauthor of For the Common Good

"Hazel Henderson has given us a road map for traversing the new global economy of the Information Age. She has effectively blended together a lifetime of keen insights into the relation- ships between science, technology, economy, and the environment in a provocative and timely book that is likely to be widely read and discussed."
—Jeremy Rifkin, author of The End of Work

"The most precious commodity in the world is hope, and Hazel Henderson's Building a Win-Win World is a motherlode. She finds paths from competition to cooperation, from hierarchy to diversity, from global abuse to grassroots solutions—and thus from isolated despair to communal action."
—Gloria Steinem, author of Moving Beyond Words

"One of the foremost thinkers of our time challenges us to take a penetrating look at our values and the way we live."
—Peter Russell, author of The Global Brain Awakens

"Hazel Henderson is my favorite paradigm smasher, but she is much more! Let others waste their breath crying doom. Hazel is busy identifying a host of overlooked potentials and promising developments at the grassroots level and in the civil society that can move us into a humane and livable future."
—Elise Boulding, Professor Emerita, Dartmouth College, and author of Building a Global Civic Culture

"This is one of the most powerful and important books of our time for it provides the road maps to a world that works."
—Jean Houston, author of The Possible Human and Search for the Beloved

"Hazel Henderson again challenges our fundamental economic systems, our musty ways, and our minds; she is a visionary who describes what should be our future."
—Joan Bavaria, President, Coalition for Environmentally Responsible Economies

"Henderson provides a serious critique of the global economic system and turns our collective imaginations to creative cooperative solutions rather than letting us wallow in cynicism."
—Timothy Smith, Executive Director, Interfaith Center on Corporate Responsibility, and Chair, The Calvert Social Investment Fund Advisory Council

"With her unique flair, clarity, and realism, Hazel Henderson not only shows the lunacy of many currently accepted economic models and practices, she points the way to viable solutions to our most pressing problems. Everyone who cares about our future should read this important new work by one of today's most courageous and creative thinkers."
—Riane Eisler, author of The Chalice and the Blade

"Once again, Henderson challenges economists, politicians, and business leaders with her well-founded and radical critique of fundamental concepts and values. Like her previous books, Building a Win-Win World will be a rich source of inspiration for many years to come."
—Fritjof Capra, author of The Turning Point and The Web of Life

"Henderson is a visionary pioneer in new economic thinking. She rightfully points her finger at the ruinous consequences of traditional economic 'wisdom,' simultaneously she proposes brilliant new solutions to old and emerging problems."
—Eckart Wintzen, Founder and Board Member, Origin, Inc.

"The world dimension of our economies requires new approaches and new solidarities with a better understanding of our various cultures. Henderson surveys all these emerging issues."
—Olivier Giscard d'Estaing, former Member of the French Parliament

"Many scholars have tried to diagnose the roots of the malaise that afflicts our global order, but Hazel Henderson's work is unique in its grasp of the systemic causes and of the social and economic medication needed to cure it."
—Ashok Khosla, President of Development Alternatives, New Delhi, India

"Do you want to make change happen? Then get copies of Hazel Henderson's new book to your public and school libraries, your elected representatives, and your friends. Once again she demystifies what the high priests of neo-classical economics claim to be the truth, and points us in the direction of a healthier future."
—Stephen Viederman, President, Jessie Smith Noyes Foundation

"By far the most lucid and practical handbook for a better world that I have seen. With her usual brilliance, Hazel Henderson cuts through today's confusion to take us step-by-step from her clear-sighted view of how things are to practical programs for a just and healthy world."
—Elisabet Sahtouris, author of EarthDance

"The message of Building a Win-Win World is urgent. I urge politicians, industrialists, bankers, and environmentalists to read it. Full of common sense and deep wisdom, it shows the way to political sanity and planetary survival."
—Satish Kumar, Editor, Resurgence, and Director of Programme, Schumacher College, Devon, U.K.

"A 'fair exchange' is the common underlying value of most cultures' mores throughout history, and Hazel Henderson cites chapter and verse, showing how to bring this to pass within our current economy."
—Susan Davis, Chairman and CEO, Capital Missions Company

"In Building a Win-Win World Hazel Henderson brings together key issues about globalization, technology, and local communities in a direct and inspiring way. We all can build a 'win-win world'—and with this book, Hazel helps us do it."
—Steve Waddell, Director, Leadership for the Common Good

"This book provides fascinating insights into our world. It is thought provoking as we forge new international agreements to create a win-win world for the 21st century, and it is a must-read for anyone who leads or aspires to leadership."
—Doris Wan Cheng, Chairman and CEO, Sino Global Capital, Inc.

Berrett-Koehler Publishers, 9781576750278, 412pp.
Publication Date: October 9, 1997
About the Author
Hazel Henderson is an independent futurist, syndicated columnist, and consultant on sustainable development in over thirty countries. Her editorial columns are syndicated by InterPress Service world- wide. She has published articles in over 250 journals, magazines, and newspapers including The Harvard Business Review, The New York Times, Newsweek, U.S. News and World Report, The Christian Science Monitor, Mainichi (Japan), El Diario (Venezuela), Australian Financial Review, and World Economic Herald (China). Her books have been translated into German, Spanish, Japanese, Dutch, Portuguese, Korean, Swedish, and Chinese. The first version of her Country Futures IndicatorsTM (an alternative to gross national product) launched in 1996 as a coventure with the Calvert Group, Inc., as the Calvert-Henderson Quality-of-Life Indicators.
or
Not Currently Available for Direct Purchase