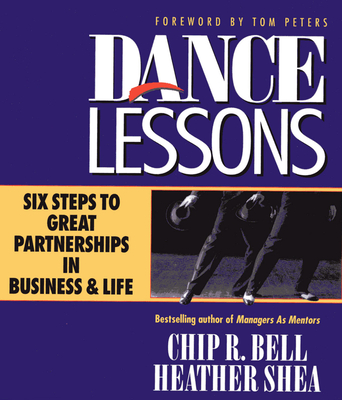 Dance Lessons
Six Steps to Great Partnership in Business and Life
Hardcover

* Individual store prices may vary.
Description
From Chip R. Bell, the bestselling author of Customers as Partners , Managers as Mentors , and Managing Knock You rSocks Off Service , partnering with Heather Shea, the former president of The Tom Peters Group's training and consulting company
Provides invaluable insights into the changing world of powerful partnering
Offers tools, details techniques, and provides activities and resources to help you develop successful partnerships in every enterprise
Partnerships are fast becoming the primary structure of contemporary business, as organizations partner with vendors, unions, customers, and even competitors to take advantage of short-term market opportunities, leverage intellectual capital, and create more flexible and innovative enterprises. In this important guide, authors Chip Bell and Heather Shea offer an in-depth look at how we can successfully manage partnerships and build them with substance-passion, quality, heart, and soul.
While many other books have examined the rational, logical, analytical sides of partnership, none has fully explored the irrational, illogical, emotional sides, which are most often what cause partnerships to falter or fail. Dance Lessons is a comprehensive guide to the interpersonal side of partnerships, revealing exactly how the champions choreograph their partnership dances for show-stopping performances. It features:
new perspectives to help you decide if partnership is right for you
exciting tools for selecting the right form of partnership
important techniques to help you get emotionally prepared to partner
smart ways to accurately pick good partners
engaging activities to help you practice your partnership skills
effective methods for dealing with difficult partners and partnerships
vital cues that let you know when the partnership is ready to end, and helpful tips on how to end it
insights on how to manage external factors that effect partnership success
practical resources to help you continue to learn about effective partnering
Dance Lessons shows how to develop meaningful, ethical, and soulful partnerships in every interaction throughout your work and your life.
Berrett-Koehler Publishers, 9781576750438, 240pp.
Publication Date: October 15, 1998
About the Author
Chip R. Bell is a senior partner with Performance Research Associates and manages their Dallas, Texas, office. Prior to starting a consulting firm in the late 1970s, he was vice president and director of management and organization development for NCNB Corporation (now NationsBank). He is the author or co-author of eleven books, including three best-sellers: Managers As Mentors, Customers As Partners, and (with Ron Zemke) Managing Knock Your Socks Off Service. He has served as a consultant or trainer to many Fortune 100 companies, including IBM, Cadillac, Microsoft, Motorola, Sprint, Lucent Technologies, USAA, Harley-Davidson, Marriott, 3M, Eli Lily, Price Water- house, Ritz-Carlton Hotels, and Victoria's Secret.
Heather Shea is CEO of Inspiritrix, Inc., an Orlando, Florida–based management training, development, and consulting firm. She is the former president of The Tom Peters Group training and consulting company and has also held senior-level positions with Arthur Andersen, CIGNA, and First National Bank of Chicago. A former professional dancer and actress, she is a world-class speaker and has delivered seminars and keynote speeches to such clients as 3M, Bank of America, Ford, Toshiba, MTV, Chevron, AIG, and Walt Disney World.
or
Not Currently Available for Direct Purchase