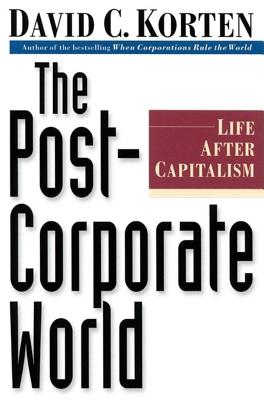 The Post-Corporate World
Life After Capitalism
Hardcover

* Individual store prices may vary.
Other Editions of This Title:
Paperback (9/15/2000)
Paperback, Large Print, Large Print (5/7/2010)
Description
There is a deep chasm between the promises of the new global capitalism and the reality of social breakdown, spiritual emptiness, and environmental destruction it is leaving in its wake. In this important book, David Korten makes a compelling and well-documented case that capitalism is actually delivering a fatal blow not only to life, but also to democracy and the market. Among his startling ideas:

Capitalism is a pathology that commonly afflicts market economies in the absence of vigilant public oversight. Since the economy internal to a corporation is a planned economy, the current consolidation of economic control under a handful of global corporations is a victory for central planning-not the market economy. The alternative to the new global capitalism is a global system of thriving, healthy market economies that function as extensions of healthy local ecosystems to meet the livelihood needs of people and communities.

Radical as such proposals may seem, they actually reflect processes that are steadily gaining momentum around the world. The Post-Corporate World provides a vision of what's needed and what's possible, as well as a detailed agenda for change. Korten shows that to have a just, sustainable and compassionate society, concentrated absentee ownership and footloose speculative capital as embodied in the global, for-profit public corporation must be eliminated in favor of enterprises based on patient, rooted, stakeholder ownership limited to those who have a stake in the firm as a worker, supplier, customer, or member of the community in which it is located.

Korten outlines numerous specific actions to free the creative powers of individuals and societies through the realization of real democracy, the local rooting of capital through stakeholder ownership, and a restructuring of the rules of commerce to create "mindful market" economies that combine market principles with a culture that nurtures social bonding and responsibility.

Like Korten's previous bestseller, When Corporations Rule the World, this provocative book is sure to stimulate national dialogue and debate and inspire a bevy of grassroots discussions and initiatives. The Post-Corporate World presents readers with a profound challenge and an empowering sense of hope.
Praise For The Post-Corporate World: Life After Capitalism…
"If you secretly wonder why the hyped promise of capitalism doesn't match the all too common and difficult struggle to make ends meet you will be fascinated by this account of where our economy went wrong and how we can change. Korten makes the economic principles that got us where we are today plain, simple , and accessible."
—Vicki Robin, coauthor of Your Money or Your Life

"Korten argues convincingly that Adam Smith would be appalled by much that Wall Street has done in recent decades, and he raises a host of provocative quesions about the emerging global economic order. Not everyone will agree with Korten's answers, but everyone will be enriched by considering his questions."
—Denis Hayes, Chair and CEO, Earth Day 2000

"The Post Corporate World does for our view of corporatism what Betty Friedan did for our view of women and Rachel Carson did for our view of the environment. . . . Passionately and gracefully written. . . it will twist your mind about the world and how you are living in it."
—Peter Block, author of Stewardship and The Empowered Manager

"A refreshing signpost for the future."
—Professor Klaus Schwab, President, World Economic Forum, Geneva

"If you want to understand what is really happening in the world, read David Korten. The Post-Corporate World points to what must come next if human beings ard other creatures are to have a livable future."
—John B. Cobb, Jr., Professor Emeritus of Religion, Claremont Graduate School, and coauthor of For the Common Good

"An earthshaking book—a product of brilliant thinking from one of history's most groundreaking intellecutals and activists."
—Lynne Twist, Co-chair, State of the World Forum

Berrett-Koehler Publishers, 9781576750513, 336pp.
Publication Date: March 12, 1999
About the Author
David C. Korten is board chair of the Positive Futures Network, publishers of YES! A Journal of Positive Futures, and founder and president of The People-Centered Development Forum. He is the author of nine previous books, including the bestselling When Corporations Rule the World.
or
Not Currently Available for Direct Purchase