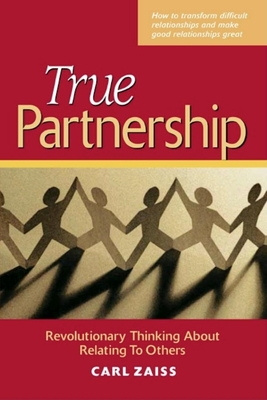 True Partnership
Revolutionary Thinking about Relating to Others
Paperback

* Individual store prices may vary.
Description
"We are all capable of producing more than we typically do. The very nature of our relationships undermines individual and organizational effectiveness." With this uncompromising statement, author Carl Zaiss takes us on an inspiring journey that opens the door to unprecedented levels of individual and organizational performance.
Written for today's complex business arena and rapidly changing world, True Partnership - Revolutionary Thinking About Relating To Others, presents an in-depth look at this mind-altering new perspective for moving beyond the issues and constraints we all face as individuals and groups. It provides a provocative and spellbinding look at how what we take for granted actually sabotages our efforts at improving our own effectiveness and the productivity of the businesses, institutions, and organizations to which we belong.
True Partnership exposes the personal, organizational, and social costs of "the drift." The instinctive and taken-for-granted way of relating limits our effectiveness. The book exposes the four mistaken beliefs that form the drift and keep us from building productive relationships: seeing ourselves as separate and autonomous, relating to others through power and control, having an either/or mentality, and seeing the world as fixed and predetermined. Without distinguishing these four characteristics of the drift, they become our blind spot and sabotage any attempt at improving our effectiveness.
One of the common strategies for improving our ability to live and work together is to build a partnership. It refers to a relationship between people with an emphasis on teamwork and collaboration. Yet, most of what we call partnership is not and most partnerships do not access what is really possible. Due to the drift - the underlying nature of our relationships - our partnerships are often superficial and cosmetic.
True Partnership presents a new perspective, a new context, for our relationships generated by a fundamental shift in the way we, as individuals see the world. True partnership is a state of mind, not a type of relationship. It is a framework of relating to others that has an impact on each and every interaction. The four principles of true partnership include: seeing ourselves as interdependent parts of the whole, connecting to others through communication, operating from a both/and mentality, and relating to our world as observer-created.
True Partnership provides access to highly effective relationships and extraordinary levels of performance. This book challenges people to rethink their basic assumptions and adopt a revolutionary new mindset about their relationships and how they go about producing results at work and at home.
True Partnership is a powerful tool for anyone concerned about improving individual and organizational excellence.
Praise For True Partnership: Revolutionary Thinking about Relating to Others…
"The practice of partnership comes from your philosophy of partnership. True Partnership is a powerful tool for shaping your philosophy into a form that fosters partnership greatness."
—Chip Bell, author of Customers As Partners and coauthor of Dance Lessons: Six Steps to Great Partnerships in Business and Life

"I have seen too many times where a lack of collaboration between people becomes the root cause of business inefficiencies and loss of competitive advantage. Zaiss' book helps us understand why and how to change our attitudes and behaviors to form richer and more satisfying partnerships."
—Russ Millholland, Director of Human Resources, Saint-Gobain Ceramics and Plastics

"Once again Carl has articulated a powerful vision for our relationships and delivers the principles and practices to accomplish it. Applying his model makes life more satisfying at work and at home."
—Mark Siegfried, Regional Sales Manager, Digital Island

"Powerful partnerships make for a good life. If you read this book it will make you a more conscious partner, and a more open, honest, creative and powerful human being."
—Brad Blanton, Ph.D., author of Radical Honesty and Practicing Radical Honesty

"Yes this is a business book, but you will cheat yourself if you consider it as just another business book. Zaiss presents a viewpoint that is outside the norm of the traditional business book. It will provoke your mind. It will not gather dust."
—JoAnn Dye, Director of Training and Development, Great American Insurance

"Don't miss the profound message of this book. True Partnership issues a quite challenge to discover the possibilities of every relationship, every encounter."
—Jeff Wilson, Senior Manager, Deloitte Consulting

"Caution! This book cannot be read just once. Each chapter is loaded with compelling insights that will show you how to take your relationships to the next level. Carl offers timeless principles that have both personal and professional applications. This book should be required reading in Corporate America."
—Richard Basch, Director of Training and Development, A-TEK, Inc.

"These communication strategies are very simple, yet extremely powerful, and will make a profound difference in all of your personal and professional relationships. Live these concepts, share them with everyone you know, and reap the rewards of satisfying relationships."
—Mary Stern, President, Metro DC Chapter of American Society of Training and Development

"In a fast-paced world, this insightful book is an excellent guide on how to take control and get beyond life's roadblocks and how to alter your relationships to achieve greater success."
—Gary Decatur, President, Choice Hotels of Canada

"In this increasingly wired, interconnected, networked world, the quality of our expanding relationships increases in importance. Zaiss' book lays out a way that anyone can improve the effectiveness—and consequently the value—of those relationships. The nature of relationships is changing and this book helps show you how you can change too."
—Peter Leyden, Knowledge Developer, Global Business Network and coauthor of The Long Boom: A Vision for the Coming Age of Prosperity and former managing editor of Wired magazine

"True Partnership uses a fresh approach to address the age-old organizational requirement for team building and leadership training. I found this book to be clear and full of common sense ideas adaptable to the everyday business environment."
—Sue Richter, National Vice President, International Humanitarian Organization

"Carl Zaiss gives us a way of approaching relationships that pre-empts their breakdown and he empowers us with a surprisingly simple model for repairing relationships that are already strained. The outcome is partnership—a highly desirable state that is too rarely achieved in organizational life."
—Ira Chaleff, Chairman of the Board, Congressional Management Foundation and author of The Courageous Follower: Standing Up To and For Our Leaders

"Embrace Carl's message and transform your connection and communication with others. His authentic, creative writing approach reminds us that we are the source of true partnership in both individual and organizational effectiveness."
—Annette Hurley, Life Coach, Change Champion, and Leader of Learning, Booz-Allen & Hamilton, Inc.
Berrett-Koehler Publishers, 9781576751664, 168pp.
Publication Date: February 17, 2002
About the Author
Carl Zaiss writes, teaches and speaks about revolutionary new principles and practices for relating to others. Carl believes that the very nature of our relationships undermines personal effectiveness, family harmony, organizational productivity, community development international peace. His latest book, True Partnership - Revolutionary Thinking About Relating To Others, provides a provocative and spellbinding look at the limitations of our current perspective and how we can transform the way we go about relating to others and producing results. In addition to his consulting, training and speaking practice, he is the Director of Development of the Club of Budapest, an international non-profit organization dedicated to advancing a new way of thinking and a new ethics to tackle the challenges of the 21st century.
or
Not Currently Available for Direct Purchase